24th and Binney/Wirt/Spencer Streets
How will the North Omaha community honor the past and navigate the impact of redlining as they continue to move forward?
Mural at 24th and Wirt Streets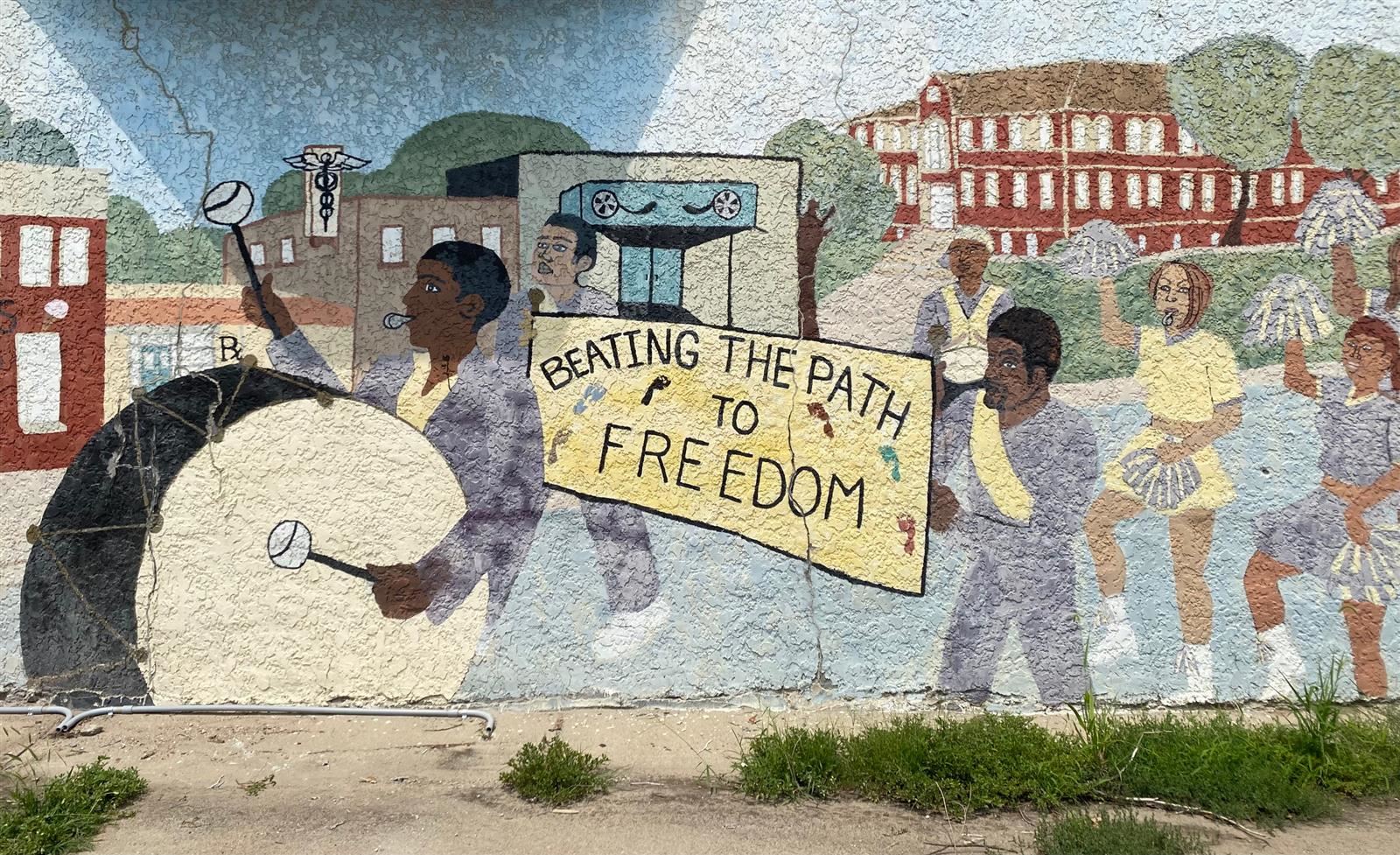 Neighborhood History

North 24th Street from Binney to Spencer Street was developed in the 1890s after the arrival of a streetcar line in 1889. The neighborhood received a burst of development following the 1898 Trans-Mississippi Exposition, a world's fair held near present-day Kountze Park to the east. By the 1930s, the North 24th Street corridor between Binney and Spencer Streets was home to a dense mix of commercial and residential buildings, as well as several prominent neighborhood institutions like Calvin Memorial Presbyterian Church. Starting in the 1940s, the overall race and ethnicity of the North 24th Street corridor began to transition from white and Jewish occupants to Black residents. This shift was driven by the practice of redlining. Initiated under the New Deal's Home Owners' Loan Corporation (HOLC) in the 1930s, redlining determined who could live in certain areas of U.S. cities by denying mortgages and loans to purchase homes based on the racial and economic makeup of neighborhoods. Black residents in communities like North Omaha were denied loans by banks and lending institutions, while white families could secure loans and gain access to better school facilities, living conditions, and policing in the city's developing western suburbs.

While these segregationist practices confined Black residents to areas with under-resourced schools, hazardous living conditions, and unfair policing practices, Black residents of North Omaha nevertheless created vibrant institutions and a cohesive political community. Local public schools produced prominent Black athletes like Bob Gibson, Gale Sayers, Bob Boozer, Johnny Rodgers, Marlin Briscoe, Ron Boone, and Roger Sayers. Facilities like the Carnation Ballroom, Dreamland Ballroom, and Paul Allen's Showcase hosted famous jazz and blues musicians like Nellie Luther, B.B. King, and Ray Charles. Near Spencer Street, Dan Goodwin Sr. opened a barbershop in 1955 that became a site of Black political organizing. In 1965, Ernie Chambers launched his political career from Goodwin's Spencer Street Barbershop, mobilizing Black residents around the persistence of white racism and the injustice of police brutality. Although the Fair Housing Act of 1968 ended formal segregationist practices like redlining, divestment continued to shape cities through the 1960s, '70s, and '80s.

In the late 1960s, residents of North Omaha joined uprisings across the United States to put pressure on city officials to end racist policing, housing, and schooling policies that continued to segregate Black residents into communities like North Omaha.

City officials, lending institutions, and insurance companies met these demands with more disinvestment, refusing to extend insurance policies to North 24th Street businesses and homeowners while increasing the scope and scale of police power in the neighborhood. This legacy of disinvestment left physical marks on the landscape. For example, when the city tore down buildings along 24th Street, they failed to remove the building foundations, creating new barriers to redeveloping empty lots by increasing the cost of development. By the 1970s and 1980s, much of the street between Wirt and Spencer Streets was abandoned as wealthier Black residents left for newly opened suburbs to the northwest.

In 2021, the community along North 24th Street is working hard to reverse the impact of decades of disinvestment by revitalizing and preserving the historic places along North 24th Street. Led by a new generation of North Omaha visionaries, different organizations and community groups all pitch in one by one. Near 24th and Spencer streets, Katrina Adams' POC Collaborative Community Resource Center is taking shape in the former abandoned Calvin Memorial Presbyterian Church. Adams' vision for the POC Collaborative is to provide resources to incubate Black-owned businesses in North Omaha. Across the street, LaVonya Goodwin, daughter-in-law of Dan Goodwin Sr., leads the Global Leadership Community Garden next door to the newly-renovated Spencer Street Barbershop. Just south of the barbershop, Marcey Yates opened Culxr House to provide space for community artists and connect them with economic opportunities. At the former Carnation Ballroom, Ben Swan is working to make the building habitable for new businesses and institutions. The legacy of redlining and disinvestment continues to challenge access to resources for the street's revitalization, but these leaders continue to build on the neighborhood's vibrant and rich history while working to meet present community needs.

Photos: Mural at 24th and Wirt Streets. (Nehemiah Barney Photo) and A Civil Rights March in 1968 at 24th and Ohio Streets in North Omaha. (Omaha World-Herald Photo)

Video: A 2021 MIHV student interview with LaVonya Goodwin. Goodwin shares information about the Global Leadership Group's community gardens, the history of the Goodwin Spencer Barbershop building at 24th and Spencer streets and, as leader of the North 24th Street Business Improvement District, her vision for the future of North 24th Street.

Video: History and Vision of Omaha's POC Collaborative. MIHV 2021 student interview with Katrina Adams, the founder of Omaha's POC Collaborative Center at 24th and Wirt streets, sharing the history and vision for the organization.

Video: House of Afros, Capes and Curls in Omaha. A 2021 MIHV student interview with Jade Rogers, founder of North Omaha's House of Afros, Capes and Curls sharing the organizations history and work building community.

Video: Omaha's Culxr House. A 2021 MIHV student interview with Marcey Yates, founder of Omaha's Culxr House at 24th and Wirt Street, and his vision for the space.

This is one of many signs throughout North Omaha made by local artist Patty Talbert. All of them have a key word that Talbert uses to promote positive affirmation in her community. Each one has beautiful patterns on them with unique and vibrant colors to reflect the vibrancy of this community.

Project Site History

When built in 1923, two businesses occupied the Carnation Ballroom: the Adler and Forbes Bakery on the north side, while Joseph Rosenblum and Jacob Kaplun operated an automotive repair shop on the south side.

Photos: Adler and Forbes Bakery on the northeast corner of 24th and Miami Streets. (Douglas County Historical Society Archives-William Wentworth Photo) The Carnation Ballroom building was on the same corner in 1967. (The Durham Museum Archives-RP-35mm-947-002)

As North Omaha and the North 24th Street corridor transitioned from a predominantly white and Jewish neighborhood to a Black and African American neighborhood in the first decades of the 20th century, the building's use changed to accommodate this new community. By the 1940s, African American organizations like the Railroad Men's Benevolent Social Club and the American Veterans of World War II renovated the building into a club, ballroom, and lounge. In 1948, Mildred Brown purchased the building and reopened it as the Carnation Ballroom. The longtime publisher of the Omaha Star, the preeminent Black newspaper for the city of Omaha, Brown sought to create a fun, family-friendly place where people of all ages could come relax, socialize, organize, and vibe to jazz and blues.

Brown attracted famous musicians to play at the Carnation, including James Brown, Nellie Luther, Otis Williams, and the Charms, Lulu Reed, B.B. King, Ray Charles, Duke Ellington, and many other local and national acts. The Carnation, like the nearby Dreamland Ballroom and Paul Allen's Showcase, was on the "Chitlin' Circuit," a series of venues across the United States known to Black artists as safe spaces that provided secure employment and performance opportunities. In addition to jazz and blues performances, the Carnation Ballroom hosted community-building events like charities, beauty contests, concerts, and talent shows. The Carnation also operated as a site of civil rights organizing when Brown offered the space to the DePorres Club, a local civil rights organization that challenged discrimination, to meet there. However, there were also some incidents inside and outside the facility that challenged Brown's attempts to cultivate a safe space, including sneaking in whiskey, arrests, stabbings, or car thefts. Ultimately, Brown shut down the Carnation in 1959.

The Omaha Star has operated for more than 65 years. It is an African American-run business and was where Mildred Brown, the original owner of the Carnation Ballroom, worked as the lead editor and publisher. It is still open to this day.

In 2021, after sitting vacant for many years, local business owner Ben Swan is remodeling the former Carnation Ballroom. While Swan works hard to preserve this important piece of history, we hope that in the future it will bring joy to the community just like it did all those years ago.

Video: Ben Swan's Vision for 24th and Miami in Omaha. MIHV 2021 student interview with Ben Swan, owner of the former Carnation Ballroom at 24th and Miami, and what he would like to see for its redevelopment and future.

Project Site Plan

Our group's vision for the future of the Carnation Ballroom centered around ways to honor the building's past while providing resources for the nearby community. After interviewing both neighborhood elders and a new generation of community leaders while researching the assets of the community, we all agreed that the building's future should be connected to the food industry. Because the Carnation Ballroom is large and divided into two separate spaces, we decided that two businesses could comfortably occupy the building. In the south bay, there would be a restaurant that served delicious and healthy food; in the north bay, there would be a food education program to teach community members how to grow and cook their own healthy meals. The North Bay's food education program would also give local high school students credit for taking classes. Outside the building, a large vacant lot would be transformed into a patio where people could sit and listen to live music performed by local musicians. The patio would also have a grilling area or fire pit where summer dishes could be served. Finally, a small parking lot would share space with this patio.

We hope that in the future it will bring the joy and entertainment that the Carnation Ballroom once brought to North Omaha by drawing from the building's legacy as a performance venue and community-building space.

2021 MIHV Project
Student Reflections
I think the best part was eating at local restaurants and hearing people's stories/perspectives. -Joel S.

I feel like now whenever I pass by North Omaha I don't see a broken-down neighborhood, instead I see a part of the city with infinite possibilities. -Keiry R.

I would be lying if I didn't say that trying the local restaurants wasn't one of my favorite parts. Besides all the delicious food, seeing all the neighborhoods on the first day was very exciting. –Desiree S.

I've learned so much through my time here. At first I assumed Omaha was a naturally boring town, but I learned that even some of the biggest Civil Rights leaders visited Omaha, like MLK Jr. I struggled to stay focused in the beginning, but to stay on track, I thought of the people I'm doing this for, to help the people of North Omaha to be seen for their work. -Patrick W.
Resources
Interviews – July 2021:

Katrina Adams, POC Collective

Eric Ewing, Great Plains Black History Museum

LaVonya Goodwin, Global Leadership Group

Rod Mullin, Community Elder and Educator

Jade Rogers, Afros, Capes, Curls

Ben Swan, Developer

Marcey Yates, Culxr House

Archives:

Omaha World-Herald Photo Archives

CulxrHouse Facebook Page

Afros, Capes & Curls Facebook Page

Publications:

Carnation Ballroom, 2701 North 24th Street, Local Landmark Designation, Aug. 28, 2018

Chatelain, Dirk. 24th and Glory: The Intersection of Civil Rights and Omaha's Greatest Generation of Athletes. Omaha World-Herald Publisher, 2019. Print

Orr, Richard. O&CB Streetcars of Omaha and Council Bluffs. 1996. Print

Omaha Historic Streetcar System an Intensive Level Survey of Preservation Resources. 2017

Omaha World-Herald (online), 20 Mar 1994 Page 4. Preston Love, 'Carnation Ballroom Blossomed in 1950s'