Dahlman Neighborhood - 10th and Hickory
How can we revitalize 10th and Hickory streets while respecting its history?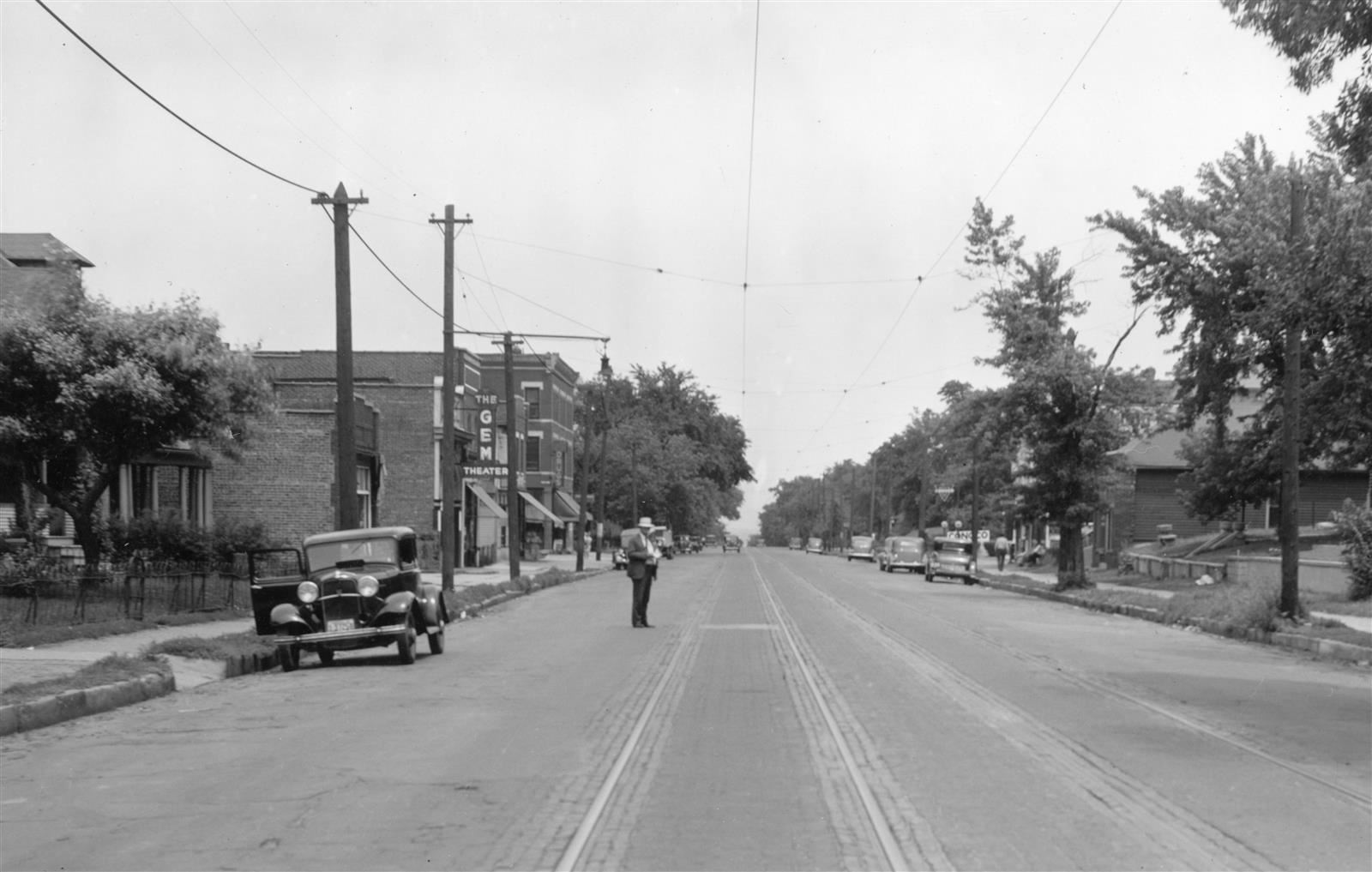 Neighborhood History

South of the Old Market, beyond The Durham Museum, there lies a community called the Dahlman Neighborhood, named after James Dahlman, an eight-term mayor of Omaha. Streetcars traveled 10th Street from 1898 to 1948. A former streetcar stop was located at 10th and Hickory, which is now an intersection surrounded by rich history and amazing stories! Everywhere you look, there is a building with a special story just waiting to be heard. Around this neighborhood, you will see the Sons of Italy Hall, where people meet up and talk. You will see Pine Elementary, a Pre-K through 5th grade school opening Fall 2022 on the former grounds of Grace University and, before that, Brownell Hall. Photo: Looking north just south of 10th and Hickory Streets in 1930.(The Durham Museum Archives-BF1-144)

At this intersection you can see Cascio's Steakhouse, started in 1946 by Al and his brother Joe Cascio. Alfie Cascio continues the tradition in 2021, serving delicious foods made fresh in their kitchen. The building has no windows because of an incident in 1978 that led to the original building burning down. You can stop by and grab a donut from Olsen's Bakery. They serve many breakfast pastries, including donuts, Danishes and Long Johns, all of which are made fresh every day. The neighborhood is a friendly place and it is rich in history. One place is the birthplace of Fred Astaire.

Fred Astaire

Astaire was a famous American actor, dancer and singer. He grew up in Omaha, Nebraska and throughout his childhood he danced. His older sister Adele started dancing at a young age and Fred soon followed in his sister's footsteps. Although he didn't dance for Chambers Dance Academy like his sister, most say at the age of four he was already putting on ballet slippers. Many people saw his talent as he would go to the studio and just dance. Mrs. Austerlitz, their mother, saw Adele and Fred's potential and sent them to New York for dance training. By 1908, Fred and Adele were already playing the Orpheum Theatre. They danced together until Adele married in the 1930s. Then Fred made his solo career. He won many Emmys and even started acting. He is now considered a legend. Sadly, the dancer died in June of 1987 but he will forever live in history. Fred was born May 10, 1899. To celebrate the history of Fred Astaire, his hometown of Omaha decided to name a street after him. May 11, 2019 marks the creation of Fred Astaire Avenue. Fred Astaire Avenue is still a place and if you go to 2326 S. 10th St. in the Dahlman Neighborhood, you will see his home and the street sign. Photo: Fred Astaire home at 2326 S. 10th Street in 2021. (Google Maps)

Omaha's Little Bohemia and Czech History. MIHV 2021 student video sharing historical photographs, traditions and information about Omaha's Czech/Bohemian history.

Little Bohemia

In the late 1800s, Little Bohemia was born west of 10th Street as Czechoslovakian immigrants settled near job sites. Many residents that live here have been here pretty much their entire life. They have many stories about Little Bohemia and its history. Around this area, the Czech immigrants created businesses, restaurants and organizations like the Bohemian Café, Golden Goose and Sokol Hall. With the revitalization of historic buildings around 13th and William streets bringing in new businesses, and a new elementary school being built at 10th and Pine streets, the community expects more people coming to live in Little Bohemia. Photo: The Bohemian Cafe on South 13th Street in 1992.


An artifact of the Czech culture is Sokol Hall, which is an important building for multiple reasons. It was built in 1927, after the original Sokol Hall was torn down. It was built as a place for community gatherings, where people would gather to dance, watch concerts, and discuss important matters. Sokol Hall is an establishment that has really helped the neighborhood. In an attempt to make our building a good place for the community to gather too, we incorporated aspects of Little Bohemia and Little Italy, such as incorporating the colors of their flags into our building. In 2021, Sokol Hall was bought out and renamed to "The Admiral Theater", but its services will remain unchanged. Photo: Sokol Hall on South 13th Street in 2021.

Omaha's Little Italy History and Current Images. MIHV 2021 student video sharing historical photographs, traditions and information about Omaha's Little Italy community.

Little Italy

In 1905, thousands of Sicilians moved to Omaha and settled in an area south of Pacific Street and east of 10th Street. Known as Little Italy, it was a place where Italians lived and created businesses catering to immigrant families. The Italians were big on religion, and many of the children attended the Catholic schools in the area, including St. Philomena's at 10th and William streets, later named St. Francis Cabrini. The Italians we interviewed remembered meals of homemade sausages, cannoli's and cacciatore pasta and restaurants in the neighborhood like Caniglia's, Piccolo Pete's, Angies, and Sam and Ross Nisi's Spare Time Café. While many Italians have moved out of the neighborhood, restaurants like Orsi's, Cascio's and Sons of Italy Hall still remind residents of the area's ethnic past and help to preserve its culture.

Photos: The Santa Lucia Festival at 10th and William Streets on July 31, 1956. (Omaha World-Herald Photo) and Sons of Italy pasta dinner on Jan. 25, 1990. (Omaha World-Herald Photo)

Project Site History

An 1890 Sanborn map shows little development at 10th and Hickory with only a few wood and brick buildings on this corner. By 1910, more permanent buildings lined 10th Street and the density in the area was increased. What is now Cascio's was once a brick building with at least three businesses inside. What is now the northeast and southeast parking lots at 10th and Hickory were once four wood-frame buildings of mixed use. Photo: Southwest corner of 10th and Hickory Streets in 2017.

Omaha's 10th and Hickory Student Redevelopment Plan. A look at the MIHV 2021 student plan for redeveloping the northeast corner of Omaha's 10th and Hickory intersections after interviewing neighborhood leaders and business owners.

Project Plan

The northeast corner of 10th and Hickory is now a parking lot for Cascio's restaurants. Cascio's is directly across the street and the new Pine Elementary is directly to the north. To determine what should go in the space, we went out and asked the community what they thought would help bring the culture back to the neighborhood and the people. Marie Sedlacek, an architect and Czech resident, talked to us about the architecture and culture of this community. Photo: Northeast corner of 10th and Hickory Streets in 2021.

She shared with us a plan for 10th Street. On the plan, it showed an initial idea for our space that would put two stories of parking and apartments. This is a common need and is incorporated into our plan as well as the plan for a café and a grocery store. When we interviewed several Italians, they suggested the idea of the café. As we talked to them about their culture, they said they want the café to represent the people and have it be a place to gather in the community. The grocery store idea came from longtime Czech resident Marlene Mahoney. She talked to us about how there wasn't a grocery store in the neighborhood that was easily accessible.

Our plan combines all these ideas into one building. The building would be three stories with underground parking, since we still need to accommodate parking for the residents of the building. The first story would be where we have our café and grocery store. The grocery store won't necessarily have everything you need but most of your daily fruits and vegetables. The café would have a kitchen in the back and, as we only have a little seating in the place, we would also have a patio area for seating on the top of the building.

The upper two floors would be apartments with two-bedroom apartments on the second story and studio apartments on the third story.

After looking at the artifacts of this neighborhood, the future plans for it and talking to all the wonderful people who wanted to talk to us about their neighborhood, this was our proposal. We based it off the suggestions of everyone we interviewed and added more to it that we thought would best benefit the community.

2021 MIHV Project
Student Reflections
"… we got to explore the neighborhoods, go to cool restaurants, and interview the people of the community. … We talked with the Italians and the Czechs on their culture and what the neighborhood use to look like. There is now so much information in which we can share for everyone else, which I would say is the best part of the project, sharing our newfound knowledge with others." - Chloe P.

"I now understand that history is everywhere around me." - Thayen R.

"… it (MIHV) gives me a wider view of Omaha as a whole because I had never known about the racial discrimination in Omaha or the culture of Italy and Bohemia in Omaha. It has changed me on how I'm going to research and view things in life." - Landon C.

"… the program opened up my eyes to the possible histories and memories a place holds even if it looks abandoned. - Kevin S.
Resources
Interviews – July 2021:

Arnie Breslow, Cornish Mansion and Streetcar

Nancy D'Augusta Calinger, Little Italy

Joseph Caniglia, Little Italy

Alfie Cascio, Cascio's

Rose DiMauro, Little Italy

Vince Emmanuel, Little Italy

Sheri Kanger, Little Italy

Eileen Korth, Architect, Pine Elementary

Marlene Mahoney, Czech History

Lou Marcuzzo, Little Italy

Dan Matuella, Sons of Italy

Mel Olsen, Olsen's Bake Shop

John Royster, Big Muddy Workshop, Pine Elementary

Marie Sedlacek, Dahlman Neighborhood & Czech History

Nolan Stevens, Architect, Pine Elementary

Al Vacanti, Little ItalyCharles Vacanti, Little Italy

Archives:

The Durham Museum Photo Archives

Omaha World-Herald Photo Archives

Publications:

Little Bohemia Historic District, National Register of Historic Places Nomination 2020

Omaha Times Remembered Volume I, II and III. Omaha World-Herald publisher. 1999, 2000 and 2002.

Omaha Historic Streetcar System an Intensive Level Survey of Preservation Resources. 2017

Omaha World-Herald, 10 Aug 2011. Cascio's Going Strong After 65 Years Advertisement

Sanborn Maps of 10th and Hickory Area. 1890, 1901, 1910 and 1918.