South Omaha Terminal Railroad
How did economic class affect the growth of the railroad industry in Omaha and the class-based segregation of its population?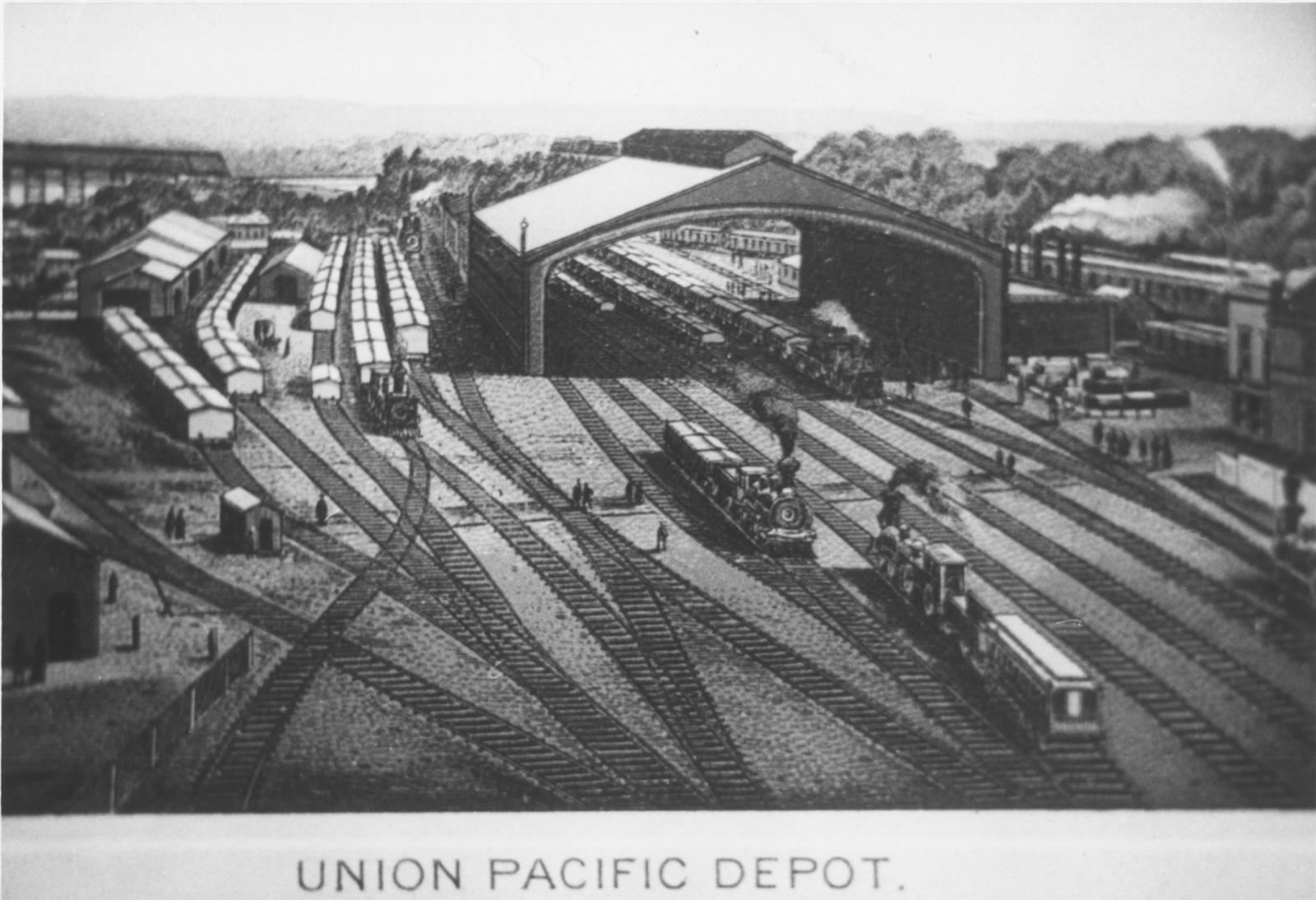 Railroads in Omaha
Have you ever wondered why there are railroad tracks all over South Omaha?

What kind of things are moved by train in the USA?

Trains are a big part of Omaha's history and community. In South Omaha, early trains moved cargo like saddles and furniture. However, the main product that was hauled was cattle. People also used the train to get around because at that time there were no cars. Trains were the fastest alternative for transportation across the country. Due to increased train usage, immigrants were recruited to build the railroads and keep the trains and tracks in order.

Many of the workers on the railroads after 1910 were men who were recruited from Mexico. They moved to South Omaha because there were railroad jobs available. They were offered the jobs because they would work for low wages and were dedicated workers. After they had been working at the railroads, immigrants brought their families to South Omaha. The community of South Omaha includes many Mexicans because once the families came, they lived close to the railroad tracks. Even when the railroad jobs ended, Mexicans stayed in South Omaha and evolved into a strong community that celebrates Mexican culture and adds to the diversity of Omaha.

A 3:44 video in 2013 interviewing Bob Fahey, a retired Union Station employee; Dr. Thomas Sanchez, UNO Latino/Latin American Studies professor specializing in migration and immigration studies; Sam Gomez, retired Union Pacific Railroad employee and whose grandfather was recruited from Mexico to work on the railroad.
South Omaha Terminal Railway Station
The South Omaha Terminal Railway began in 1887. It grew from being 17 miles of track in 1927 to 31 miles by 1978. At that time, the railway was taken over by the Brandon Corporation, which still operates in 2013. The railway had about 85 employees at its peak and it grossed nearly $950,000. The construction of the railroad brought cattle from downtown Omaha to south Omaha stockyards. In the 1970s, the railroad business changed because semi-trucks took a bigger role in cattle transportation. In 1946, the South Omaha Terminal Railway became one of the first to convert completely to diesel engines.

Our group went to investigate the history of the railroads and their connection to the stockyards. While looking for more information at the Douglas County Historical Society about South Omaha's Terminal Railway, we found a map from 1910 that had the exact location of the railway depot. We went to take a look at it to see it for ourselves, and to compare the map with what the railways look like today. We stopped at 28th Street behind Johnny's Café, and started to search for the railroads and businesses that our map showed. The depot is now an abandoned lot and many of the businesses are now gone. The residents of South Omaha do not really know about the South Omaha Terminal Railway or the businesses that used to be near it. So my group wanted to make this invisible history visible. The photo in this section was taken by our group which shows the location of where the South Omaha Terminal Railway used to be.

Photo taken in 2013 at 28th and M Streets.
South Omaha Trains at the Stockyards
The picture shows what the railroads in South Omaha were used for in the past. The trains imported cattle and sheep from other places to the stockyards. After the packing plants started to close, many of the buildings and pens disappeared. In 2013, trains imported many different types of things to Omaha. For example, they bring coal, Apple computer products, even the clothes you might be wearing. This picture documents moving goods because these trains are moving goods but not people, who are moved on different types of trains. The trains that import goods are a cheaper way than trucks to carry a lot of goods. This picture shows the trains that are bringing cattle to the stockyards so that Omaha can have meat to eat.

The postcard is courtesy of the Douglas County Historical Society
Ticket to Ride
This pink ticket represents a seat on the train for an individual in order to get to and from places all across the country. This artifact illustrates the "Moving people" subject. The ticket displays a destination, a ticket number, a seat and a car number. It seems as if they are going to Omaha, Nebraska, to arrive at the Burlington train station. The tickets today look a tad bit different, but overall they have not changed much. Tickets still have the general information of the destination and date. The reason trains were used so often up until the 1950s was because they were the fastest source of transportation around the country. Trains today are a safe way to travel and cheaper than a plane ticket, but are far slower than a plane. For example, in 2013, a train ticket to Denver would cost $157 for one adult but would take nine hours to get to the destination. A plane ticket to Denver would be $227, but it would only take one hour to get to the destination.

The ticket is courtesy of the Douglas County Historical Society.
Additional Information
Railroads played an integral role in shaping the nation, populating the Great Plains region, and establishing Nebraska. Omaha's emergence as a thriving Midwestern city is directly linked to the construction of the first transcontinental railroad. The Union Pacific Railroad, headquartered in Omaha, developed a vast network of track that moved people and goods from both coasts to and through Midwestern states, particularly Nebraska. Frequently, Union Pacific developed or entered into agreements with smaller train companies for contained lines of track that facilitated specific commercial needs.

One example of such a commercial relationship was the development of the South Omaha Terminal Railway. In 1887, the directors of the Union Stock Yards Company authorized construction of tracks and the purchase of engines in order to provide a rail link between the booming packing houses and grain bins located in South Omaha, and the central Union Pacific yards in downtown Omaha. The South Omaha Terminal Railway (SOTR) expanded as an independent railroad, developing its own roundhouse, machine shop, engineers, firemen, and section hands. In the 1970s, trucking took over as the dominant mode of transportation for livestock and ended SOTR's service. The Brandon Corporation, a short line railway affiliated with Union Pacific, acquired the SOTR in 1978. To explore an example of invisible history in South Omaha, Team Railroad explored the history of SOTR, and conducted field research to make it visible as part of this project.

Omaha's railroad legacy also extended to the movement of people. This was famously accomplished by Omaha's Union Station during its reign as a major passenger hub from 1931-1971. However, when researching railroads and the movement of people, students quickly realized that many of the people migrating to Omaha – from other parts of the United States and from other nations -- came for an initially less obvious, but vitally important, piece of railroad history: employment. Croats, Czech, German, Irish, Italian, and Polish immigrants, among others, moved to South Omaha for railroad jobs. As the initial wave of European immigrants progressed into other commercial enterprises, new arrivals changed the ethnic mosaic that is South Omaha. Increasingly, after the 1910 revolution, Mexican immigrants, and Mexican-Americans, moved to Omaha. Often, they did so to trade agricultural jobs for the stability and wages that railroad employment offered. Together, these immigrants built the vibrant community that is South Omaha.

2013 MIHV Project
Student Reflections
"The program is going to help me with how I have to do research and the sources I have to find in order to actually find out what you're looking for. It will also help me in teaching me how I have to work together with my partner and co-operate with others. I really liked this program and I hope whomever else does it also enjoys it the same way I did."

— Pablo H.


"This program has helped me tremendously with building my confidence up to achieve my goal. It has also given me techniques to help me socialize with others in a professional manner. I really enjoyed this program; it was a productive activity with a lot of hands on activities. I definitely recommend doing this, as this is an awesome experience."

— Bailey M.
Resources
Boughn, Pete. "South Omaha Terminal Railway Busiest," Omaha World-Herald, May 24 a.m., 1959.

Brandon Corporation BRAN #81, https://www.uprr.com/customers/shortline/lines/bran.shtml (accessed July 15, 2013).

Garcilazo, Jeffrey Marcos. Traqueros: Mexican Railroad Workers in the United States, 1870-1930. Denton, TX: University of North Texas Press, 2012

Garza, James A. "The Long History of Mexican Immigration to the Rural Midwest." Journal of the West 45, no. 4 (Fall 2006): 57-64.

Larsen, Lawrence H. and Barbara J. Cottrell. The Gate City: A History of Omaha, enlarged edition. Lincoln: University of Nebraska Press, 1997.

Otis, Harry B. with Donald H. Erickson. E Pluribus Omaha: Immigrants All. Omaha, NE: Lamplighter Press, 2000.

Saunders, Richard. Merging Lines: American Railroads, 1900-1970. DeKalb, IL: Northern Illinois University Press, 2001.

---

Research compiled by: Pablo H., Bailey M., Christina C., Teresa H.