South Omaha Sports History
What were the various social and cultural aspects of sports in South Omaha?
Reflecting Heritage, Uniting Community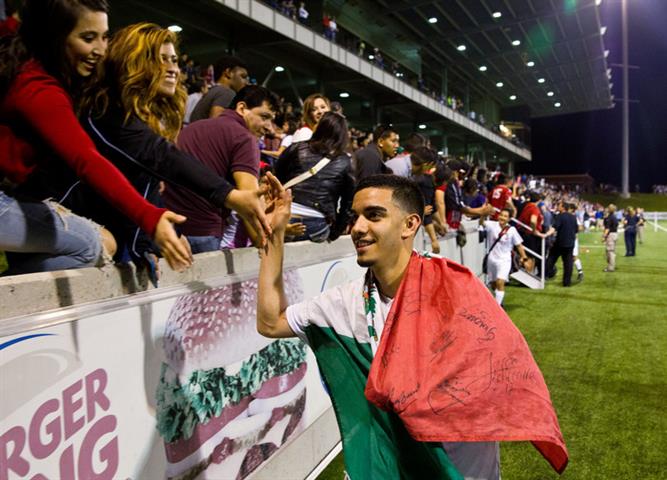 Sports in South Omaha
Sports can teach us a great deal about society. Immigrants who came to South Omaha as strangers used sports to build their communities. Sports do not just come from one specific area, but from all over the world. Immigrants have brought their cultures to South Omaha in the form of sports such as soccer, basketball, boxing, football, gymnastics, and baseball. Sports bring all types of people together into one big community, help them to relax, and get their minds off the problems at hand.

A 7 minute video in 2013 with interviews of South Omaha athletes Dave Rimington (Football); Mike Lemek (Boxing); Mike Mancuso (Football); and Pablo Rangel (Mexican Basketball League).
Collin Field
Before the field at 23rd and L streets became known as Collin Field, the community called it "The Hole". The field was named after Conrad Collin, a coach and teacher for Omaha South High School from 1936 to 1972. He coached basketball, football, and baseball and was responsible for the most State Championships in the school's history. He was also the first person inducted into the South High Packer Sports Greats Hall Of Fame. Collin Field officially opened in August of 2009. It is 75 yards wide and 120 yards long. It has soccer and football fields, and a four-lane track. It also contains 3,200 seats, a press box, a scoreboard, two team meeting rooms, concessions, restrooms, and a parking lot. This field is beautiful and amazing, but it was not always this way. Private donors from the Omaha South community donated $6.5 million to help renovate the field. Companies and state institutions such as the Nebraska Department of Environmental Quality (NDEQ) also gave more than $146,000 in grant money to the renovation process. Donors like James R. Young said, "This is about a community coming together". He believed that making the field a nicer place could bring the people of Omaha South together.
South Omaha Football
South Omaha has a strong history of football. Dave Rimington is a star that made history and is still being remembered today. The Rimington Trophy, which is awarded to the best center in college football, is named after him. He was also chosen during the first round of the 1983 NFL Draft by the Cincinnati Bengals. He was a two-time All-American from 1981-1982 and one of two players to win three Outland/Lombardi awards. Rimington was born in Omaha, Nebraska and attended South High, where he became famous for his sports skills. Rimington won the Outland Trophy in 1981 and 1982 and in 2013 is its only two-time winner. Rimington was inducted into the College Football Hall of Fame in 1997. Rimington retired from football in 1989. Another South Omaha football player is Marlin Briscoe. During his four seasons playing for the Denver Broncos, Briscoe was the first African-American starting quarterback in the NFL. He later became a wide receiver for the Miami Dolphins, where he was a member of the only undefeated team in NFL history. In addition to these football players, there were many more who went on to play college and professional football. All of the players received a lot of support from the community.
Gymnastics
South Omaha is well known for producing some of the best gymnasts in the nation. Two Olympic gymnasts, Jim Hartung and Phil Cahoy, were members of Sokol, a South Omaha gym. Dr. Miroslav Tyrs founded the original Sokol gym in Czechoslovakia in 1862. The word sokol means "falcon" in the Czech language. The name symbolizes independence and strength. Sokols were organizations dedicated to physical, mental, and cultural well-being. It was based on the theory that only physically fit, mentally alert and culturally well-developed citizens come from a healthy and strong nation.

Jim Hartung was one of the best male college gymnasts in history and an eight-time U.S. national team member. While a student at South High, he won 18 gold medals and three state championships. In 1978, he was the Omaha World Herald's "athlete of the year" and a high school All-American. He went to the University of Nebraska and won seven NCAA titles, 11 NCAA gold medals, 22 NCAA all-American rankings and made the U.S. Olympic teams in 1980 and 1984. In the 1984 Olympics, he helped the U.S. team win its first and only men's gymnastics team gold medal.

While Phil Cahoy was a student at Omaha South High he also accomplished a lot of things. In high school, he won 10 gold medals, three state titles, and was a high school All-American in 1977, 1978, and 1979. Cahoy also went to the University of Nebraska. He won four NCAA titles, 10 all-American rankings, 15 Big 8 conference medals, two Big 8 conference individual titles and was a member of the U.S. world championship team and the Olympic team in 1980. Neither Hartung nor Cahoy was able to compete in the 1980 Olympics, however, because the Olympics were in Moscow and the United States refused to partake in the Olympic games due to the Soviet Invasion of Afghanistan.
Margaret Krakowski and female athletes
During Margaret Krakowski's time at South High School, women were not given the opportunity to play sports. Krakowski became a pioneer, participating in sports outside of South High by playing softball at Falstaff fields. She later became a successful businesswoman and moved to Los Angeles, California. She died at the age of 88 leaving most of her estate, $300,000, to the South High Alumni Association.
Mexican Basketball Tournaments
One of the most important sports experiences for Latino immigrants in South Omaha was the Mexican Basketball Tournament, which began in the 1940s and continues in 2013. The first team was composed of Mexican American veterans from World War II who competed against other Mexican teams from the Midwest. While the teams competed in intense games, the tournament itself was a way for the Mexican immigrant community to come together and socialize as well as raise funds. Other institutions such as the Catholic Church have helped promote sports in South Omaha.
South Omaha Boxing
On Dec. 6, 1890, at South Omaha's Old Germania hall, two boxers, Dan Daly and Tommy White, battled for 91 rounds. This bare-knuckle brawl lasted 5 hours and 56 minutes, and broke the hands of both boxers. Boxing remains popular in South Omaha. Many boxers from multiple ethnic groups compete for various clubs in the Omaha area.
Additional Information
Sports have played an essential role in the shaping of South Omaha. When the stockyards opened in 1860, waves of Danish, Czech, Italian, Polish, and Mexican immigrants settled in the area to find work. They searched for a way to better integrate themselves into American society. Sports, such as football, basketball, boxing, gymnastics, and soccer, proved to be powerful community-building foundations. Sports allowed individuals to escape from the hardships of their everyday lives, as well as connect to their cultural traditions.

These sports not only produced a sense of ethnic pride and community, but because of the widespread popularity within the nation, achievement in this field gave many immigrants a chance at success. It was a way to gain stature and recognition. Sokol gymnastics, a Czechoslovakian gym, saw this success when two of its members made it to the 1980 Olympic gymnastics team. Marlin Briscoe, an African American football player from South High school also triumphed, breaking down one of the largest historical American barriers by becoming the first African American quarterback to start in the NFL. In South Omaha, first-generation Hispanic/Latino immigrants are bringing their high school's soccer team to new heights by winning the 2013 state champion title.

These people came to Nebraska as outsiders but found a way to assimilate through sports and recreational activities. The community takes pride in its residents' accomplishments and portrays their gratitude by erecting new arenas for the younger generations. In the past 50 years, a new Sokol gym was assembled after the first burnt down, Collin Field was constructed to replace "the hole" for the football teams, and Brown Park was rededicated as John Stella Field in memory of the many veteran baseball players who played there. Sports have helped transform South Omaha from a fractured immigrant-based society into a cohesive community.

2013 MIHV Project
Student Reflections
"I liked learning all about gymnastics and learning more about technology. I really liked working on the interviews and using the camera. I learned a lot about our community that I will never forget."

— Pablo B.


"I learned the history of a place that I have lived in for so many years and had no clue what each building meant. This project gets you into history you never expected to know."

— Lizbeth C.


"Something that I've learned about myself is that if I dedicate myself I can learn new things, ideas and write better. Also, if I want to, I can go very far in life, but it takes courage and dedication."

— Nancy C.
Resources
Erickson, D. (2000) E Pluribus Omaha: Immigrants All. Omaha, NE: Historical Society of Omaha and Lamplighter Press.

Douglas County Historical Society; Omaha World-Herald clippings and Photos

Durham Museum photo archives

Dave Rimmington; oral history

Mike Mancuso; oral history

Mike Lemek; oral history

Pablo Rangel; oral history

---

Research compiled by: Pablo B., Lizbeth C. and Nancy C.