Central Park Neighborhood - 42nd and Grand Avenue
What factors can make a thriving, walking neighborhood decline?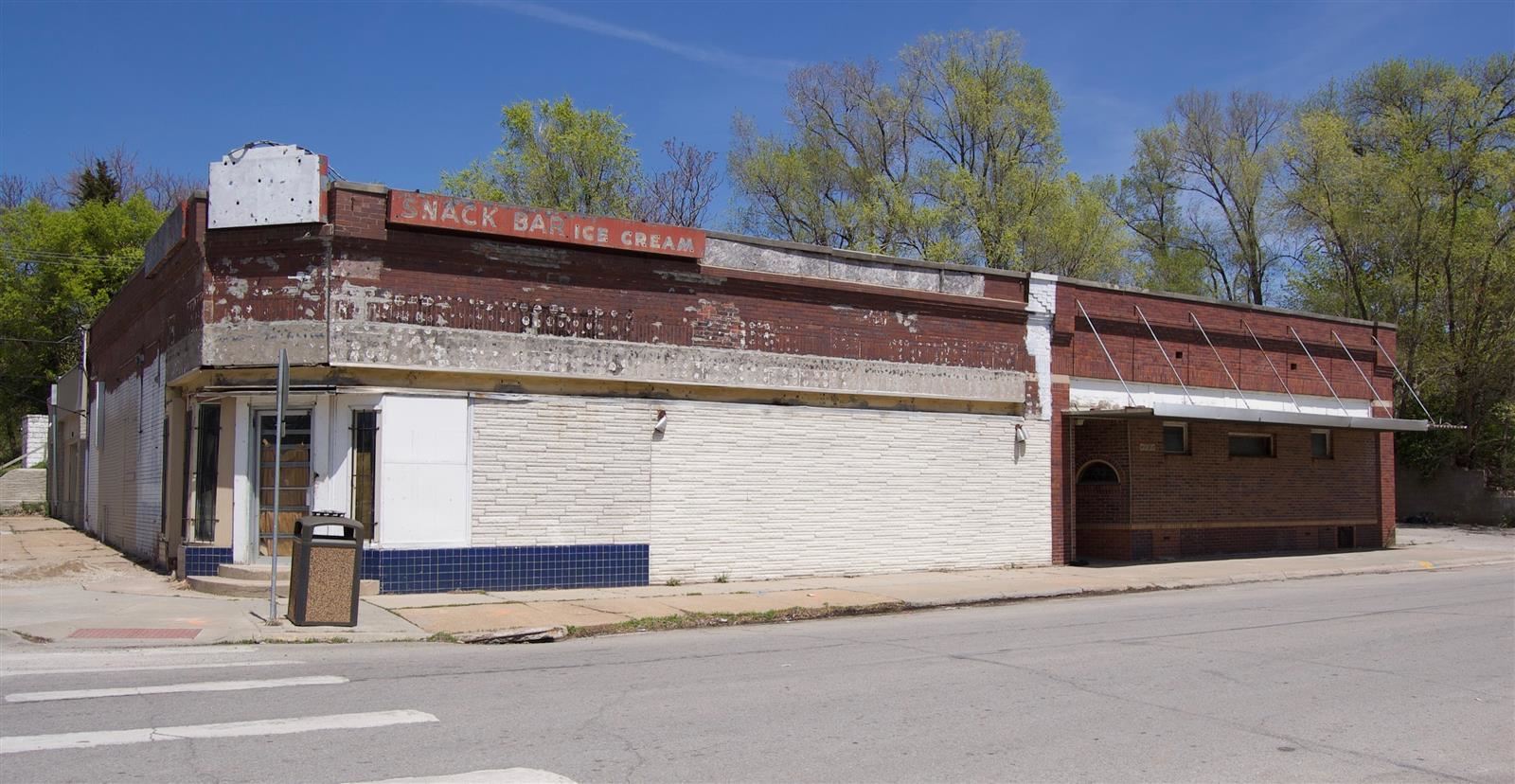 The Central Park neighborhood stretches from North 33rd Street to North 48th Street and from Ames Avenue to Sorenson Parkway. This area, which was considered an early suburb, was settled in the 1870s and originally named West Saratoga. It was comprised of a schoolhouse, a mercantile store, and several houses occupied by white working-class families. West Saratoga school was built in 1885 and the area was then known as the Cherry Hill neighborhood. After the school was rebuilt in 1912, it was called by its current name, Central Park. The Central Park Improvement Club became active in the 1890s and advocated for positive changes in the neighborhood, like graded streets, streetlights, and the extension of the streetcar line to the neighborhood in 1920. The intersection of 42nd and Grand was a line of businesses that included Central Park Pharmacy, a doctor's office, Central Park Congregational Church, a Jewish cemetery, and a long history of grocery stores like Hinky Dinky and Hadley's. Over time, car culture increasingly displaced the public transportation system. Starting in the 1970s, many of the traditional white ethnic residents began to move from the neighborhood to outlying suburban areas, following a national trend of white flight from central cities and first-ring suburbs like Central Park. As white residents left, tax revenues and economic development declined and political power shifted toward the expanding, more affluent edges of the city. This left the new, largely working-class African American residents of Central Park facing a host of difficult challenges, from higher rates of unemployment to struggling schools, absentee landlords, pollution, and social instability.

Video: A 7 minute 2019 video interviewing Dr. Bill Wakefield who lived in the neighborhood in the 1940s and 1950s and Rod Mullen who has lived in the area since the 1960s. It began as a white working class neighborhood and started in the 1960s changed to an African American neighborhood.
4130 Grand Avenue
This is a current picture of 4130 Grand Avenue. It is currently vacant but full of possibilities for the future. Photo courtesy of Dr. Patrick Jones.

The building at 4130 Grand Ave. was built in 1924 and owned by A.C. Bingel who was a realtor who owned many investment properties in the area. The 40 x 46 ½ foot red brick building is a simple square-shaped design with a flat roof, metal awning and small parking lot next door. The Central Park Grocery Store opened in this space in 1927, one of several grocers in the area that served the neighborhood in its heyday. In 1940, the Hinky Dinky grocery store that had been located around the corner moved into the space. In 1959, the building was converted into a recreational center for area seniors, another important community-oriented function. In its best years, this space was also connected to the Central Park Pharmacy, which was very popular and known for its convenience. More recently, as the Central Park neighborhood has declined, the building became vacant, a symbol of the struggling circumstances of the once-vibrant community around it. The large, old display windows are now boarded up and the front metal door rusted.

This was an advertisement that was found in the Omaha World-Herald on Jan. 3, 1931. This shows the majority of grocery stores in Omaha, Nebraska and Central Park Grocery Store happened to be one.

This is a list of thriving neighborhood stores in Omaha. This artifact was found in the Omaha World-Herald on Jan. 3, 1931. It was created to advertise the many neighborhood grocery stores. Central Park Grocery Store happened to be one. I conclude that the items being advertised, such as butter and Omar Flour, were essential to many neighborhoods. Because many families didn't own automobiles, streetcars were used and many people walked, so it was important that there were supplies nearby. Stores and other needs were built into neighborhoods and residents could easily walk to get what they needed.
4907 N. 42nd Street
This is a current picture of 4907 42nd Street. The shop windows are boarded up, cracked, and in dire need of restoration. Photograph courtesy of Dr. Patrick Jones.

Over the decades, the building at 4907 N. 42nd Street has served the surrounding Central Park neighborhood in a variety of ways. When it was built in 1927, the structure housed a Spic and Span Grocery Store, which was replaced by a Hinky Dinky Grocery Store in 1930. These stores served what was, at the time, a growing white ethnic, working-class walking neighborhood. In the mid-1940s, the building became a Hadassah Group meeting point. (Hadassahs are Jewish Women's Zionist organizations that are involved in empowering women in the community) Because there was a Hadassah that means that there was a Jewish population in Central Park in the mid 1940's. By 1950 it returned to its previous function as a Robert J Hadley Grocery. As supermarkets became more popular, the space became Clary Construction Company in 1970, and finally, the Foyer Barbershop during the 1980s.

Today, 4907 N 42nd St., is empty but is full of possibilities for the future. The tan wood and stone building is a dreary remnant of what it once was. Where big, open windows used to display groceries, now wooden panels block off the street view of the inside, completely closing off the building to the public. The door emanates old, vintage vibes, but also makes it feel a bit forbidding. It will take some work to return the building to its former glory, but there are signs of hope. Currently, it is reported that the building will soon be renovated as a daycare, which will create a completely different feel to the structure, adding vitality to the area and again serving a need in the community.

This is an advertisement found in the Omaha World-Herald of all the Hinky Dinky stores in Omaha, NE, in 1932. The building being researched is listed tenth on the first column. Artifact courtesy of the Omaha World-Herald.

This is an advertisement found in the Omaha World-Herald of all the Hinky Dinky stores in Omaha, NE, in 1932. Using artifacts like these can help us to locate where old shops were, and, from there, literally, map out old cities. For example, this artifact not only shows you that 4907 N 42nd St. used to be a Hinky Dinky but where all of Omaha's other Hinky Dinky's as well. This artifact inadvertently tells us how many Hinky Dinky stores there were, and from that, we can conclude the franchise's popularity. It can also help us to understand how much people relied on this grocery store for their everyday needs.
4135 Grand Avenue
This is a 2019 picture of 4135 Grand Ave. In 2019, it is one large business but originally there were four separate businesses. Photo by Dr. Patrick Jones.

4135 Grand Ave. was originally a part of a single structure divided into four separate addresses. It is a simple, one-story rectangular building that has had many lives of its own, highlighting the changing needs and wants in the area as the people of the neighborhood have changed. The red, brown and white brick building with large show windows was constructed in 1923 and was initially home to the J.P. Morris grocery store. In 1942, the Grand Avenue Grocery occupied the space, one of several grocers serving the neighborhood at its height. In 1947, a new grocery store called O.P. Skaggs was the third business that inhabited this building. A national grocery chain, IGA, replaced O.P. Skaggs in 1949. It is unclear how long the IGA operated in this space, but news reports indicate that another grocery store, Sharon's Market, held a closing auction on Aug. 16, 1964. On April 2, 1966, a pizza shop called Pinkeys Palace opened in the building. By early 1970, J and J Furniture was publishing ads in the local newspaper that the business was at this location and on June 24, 1972, it was reported that Steve's Furniture closed at this location. Brick's Bike shop moved into the space on Dec. 23, 1972. Little Angels Day Care Center held an open house in November of 1980 and the building remains a daycare in 2019, currently occupied by Kashay's Childcare Learning Center. A large, multi-colored mural on the east side of the building represents unity, pride among all races and the importance of education. This space is one of the few buildings in the area that has been refurbished in recent years, with the old large show windows now bricked up in a way to complement the original look and structure of the building. It stands tall and proud among the other struggling buildings in the neighborhood.

The ad below is from the Omaha World-Herald on Dec. 17, 1941. During the midst of World War II, Grand Avenue Grocery was lacking the preferred male employees that they wanted to hire due to the war. There was only one option if the store wanted to keep itself in business. The store needed to start hiring women baggers and clerks to work in the grocery store. M.F. Witthauer, the owner of the store, placed an ad in the local newspaper. The ad got a big response. A statement from M.F. said "and I thought there was a shortage!" The response to this ad was so big the story was carried in the Omaha World-Herald which placed this ad above. This was the beginning of the women in the workplace movement. Unfortunately, once soldiers returned, they took back the jobs that the women had. But this was a very important time in Omaha that made history.

An advertisement in the Omaha World-Herald published Dec. 17, 1942, showing an example of women's contribution during WWII in the Central Park Neighborhood.

2019 MIHV Project
Student Reflections
"How I have changed during this program is that I have a lot more respect for different areas of Omaha than I had before."

- Nolan M.


"I enjoyed learning what my building used to be and how my neighborhood changed over time. My understanding of North Omaha changed from thinking of it as run down to understanding how it was once a suburb that had a strong community."

- Venicia M.


"I used to think Omaha was very bland and dull. Never have I been so wrong. The people who grew up here love this place and the culture is rich and vibrant. I can also now see the sense of togetherness in my own community."

- Robin S.
Youth-Driven Visions for the Future
Business Plan for Building A (4130 Grand Ave.) by Venicia M.

I propose that 4130 Grand Ave should be a social hall called Venicia's Venue. It will be a social hall that would provide a place for people to get together, celebrate life events, have meetings, hang out, and more. Businesses could come here to discuss agendas over catered luncheons. I will have a great customer base because many of the people in the Central Park Neighborhood have high school diplomas, have young families and Venicia's Venue would provide them a place to have their celebrations. I believe that this could also bring the community together because I could propose neighborhood meetings, clubs, and activities. My business will add to the fabric of the Central Park Community in a way that will improve the feeling of community between people of the neighborhood.


Business Plan for Building B (4207 N. 42nd St.) by Robin S.

Basement Books' mission is to provide affordable books about minorities and under-represented groups to the people of the Central Park neighborhood, as well as the rest of Omaha. We will be located at 4907 N 42nd St., across from a diverse elementary (Central Park Elementary) with low reading scores comparative to other OPS schools. Adding a bookstore in this area will hopefully raise reading scores by donating books to the school and encouraging our youth to learn, read, and grow. The Central Park neighborhood is also home to large amounts of people in their 20's and 30's, people at that college level and in need of a variant of brain stimulators, and what better way to do that than read a book? Books are something that everyone can enjoy, but not everyone has access to them. So why not provide that wonderous opportunity?


Business Plan for Building C (4135 Grand Ave.) by Nolan M.

My building is on 4135 Grand Avenue. My business is The Grand Central Thrift Shop. This business plan includes a thrift stop inside the building along with a mini food pantry. This building will provide the community a cheap way to buy second-hand necessities and other desired second-hand items. We will also have a mini food pantry that is run by donation that customers can visit once a month as they have a need. My community has a large percentage of low-income families that would benefit from my business. My thrift shop will also be able to give back to the community in an attempt to revitalize the neighborhood and make it a better place for all the community. Some examples of this will be donating money for community projects like new bus benches, school supplies for Central Park Elementary, and new parks. Our mission statement says we care about our community and the people in it. We strive to give back and make our community a safer place for all religions, races, gender identities and sexualities. My business matters because it has meaning. It is something that is important because we are not here to just make money, we are here to change our world and community.

---

Research combined by Venicia M., Robin S., and Nolan M. Students who worked on the project will attend high school at Northwest High School and Bryan High School.