African American Artists
If "art is the mirror of society," what do Omaha's Black artists tell us about society?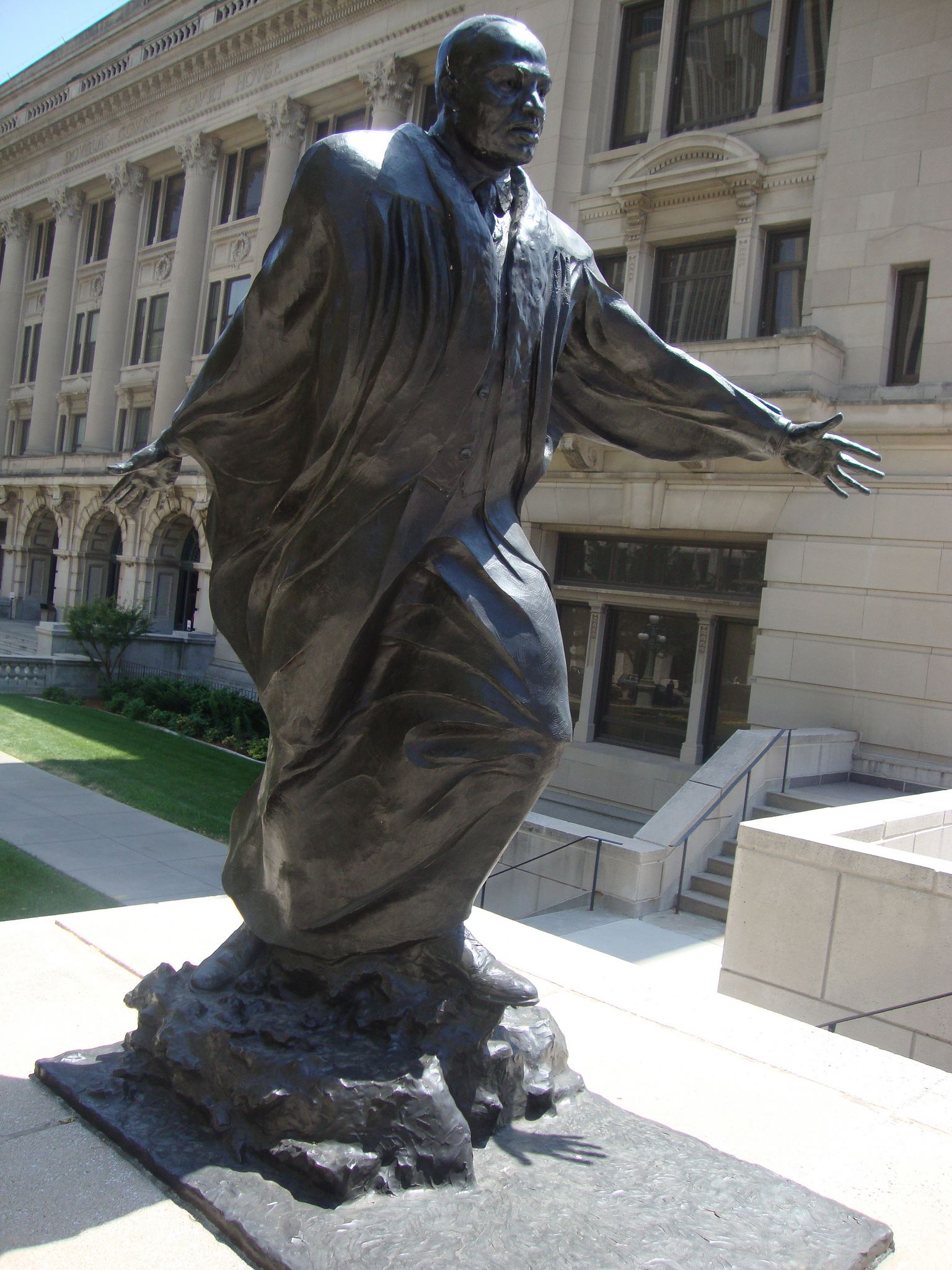 Visual Arts
Visual art is an important avenue for self-expression and always has a story behind it. African American visual arts have long been an important part of the community in North Omaha; murals, statues, and art galleries are all around. Art helps make up the unique identity of the people and community. Our project is bringing African American visual arts in Omaha to the surface so that they are not forgotten as African American art has been in the past.

African American artists such as Rudy Smith, Littleton Alston, and Wanda Ewing have been an important part of creating African American culture in North Omaha. Working in various mediums - painting, printmaking, sculpture, and photography - their work highlights the African American experience. Their art creates ties to the Black community, allows viewers to explore their own identity through their connection to the work, and underscores the significance of the events they chronicle that were often overlooked by the community at large.

Photographer Rudy Smith, a North Omaha native, wanted people to know and see with their own eyes what was going on in North Omaha, which was usually ignored by the press. Another North Omaha native, printmaker and painter, Wanda Ewing, depicts African American women and reflects on Black culture, gender, and beauty in her images. The work of sculptor Littleton Alston, a Baltimore native who migrated to Omaha in the 1980s, addresses many topics, including the African American community of the past. His sculptures can be seen all over the city of Omaha and across the country.

A 9 minute interview in 2012 with artists Rudy Smith and Wanda Ewing about their work.
Church Ladies in Hats
Photographer Rudy Smith is a well-known artist whose work for the Omaha World-Herald took him around the world. He uses his camera to capture and explore the artistic value of North Omaha's African American culture. This photograph, of church ladies in their hats, represents how churches make up a large part of the community in North Omaha. In this image, Smith shows African American women expressing their individuality through the fashions they display while attending church. This photo reflects the Black culture of the community and the constantly changing styles of the church community. (Rudy Smith Photo)
Looking Forward, Looking Back
Sculptor Littleton Alston's work has been instrumental in efforts to increase the presence of public art in Omaha. This article, a 1997 profile from the Omaha World-Herald, traces Alston's artistic linage back to the Harlem Renaissance and describes how his art celebrates African American culture and history. In this piece, Alston says, "Art is the mirror of society. It shows thought and feeling. It leads. It directs. It influences." Although Alston is not a native of Omaha, his contributions to the visual arts in this community cannot be ignored. (Omaha World-Herald article from the Douglas County Historical Society Archives)
Hairdo
Printmaker Wanda Ewing was an Omaha native and an alumna of Omaha Benson High School. She was an Assistant Professor of Fine Arts at the University of Nebraska at Omaha. A versatile artist, she explored the subjects of race, gender, beauty standards, sexuality, and identity. This print is part of her collection entitled "Hairdos." She created a self-portrait using a woodblock print, which left the top of her head blank. She then added a different hairdo to each image, representing a variety of identities. This print with flowing long orange hair was the first self-portrait she made to highlight the role of hair in beauty and identity. Because her artwork questions beauty standards, her work is often thought-provoking and sometimes shocking. Wanda passed away in 2013. (Image courtesy of Wanda Ewing)
Additional Information
Nebraska has a strong history of African American art, particularly in Lincoln. One of the most important painters of the Harlem Renaissance, Aaron Douglas, was a 1922 University of Nebraska-Lincoln graduate with a Bachelor of Fine Arts degree. Douglas was part of a larger, vibrant African American artistic community in Lincoln in the early 20th century. Their cultural contributions to the New Negro Movement showed a positive image of African American life. This can be seen in the work of photographer John Johnson, whose portraits and images of the everyday lives of African Americans portrayed them as virtuous, economically sound, and intellectual members of the Lincoln community.

Unfortunately, few records of early African American art produced in Omaha are preserved. However, Omaha is now home to many African American artists working in various media. The artists the group chose to focus on - Rudy Smith, Wanda Ewing, and Littleton Alston - reflect the many ways that African American artists can interact with the Black community. They are influenced by the New Negro Movement and make efforts to depict African Americans in a positive light, show many aspects of Black experiences and create work that can be understood by Black audiences. Additionally, they produce art that reflects on broader issues beyond race.

Many of Rudy Smith's images depict the African American community of North Omaha. He uses his work to show both the dignity and vibrancy of the community as well as the difficult living conditions and poverty, daily realities of life in North Omaha. Wanda Ewing's work speaks to the African American community and African American women's experiences with beauty and body image. Some of Littleton Alston's work, like his Jazz Trio statue in the heart of North Omaha at 24th and Lake streets, speaks to the history of the African American community. But, portraying the African American community is not the sole focus of his work. His sculptures can be found around the city and cover many topics, including the importance of the labor movement in the city of Omaha and the quest for knowledge.

Teliza Rodriguez, curator of "A Greater Spectrum: African American Artists of Nebraska, 1912-2010" at the Museum of Nebraska Art in Kearney, argues that studying African American art can help us better understand the history of the African American community in Nebraska. We hope that this project can help accomplish that goal.

2012 MIHV Project
Student Reflections
"We got to interview some amazing African American artists such as Wanda Ewing and Rudy Smith. During our interview with Rudy Smith, I felt like my mouth was just watering with knowledge"

- Taran C.


"Everything has a story and every memory should be shared to keep that history alive."

- Salma B.


"My favorite part was when we got to interview Rudy Smith. He gave us a lot of advice, like 'don't limit yourself.'"

- Tierra C.
Resources
Alston Sculpture. https://www.alstonsclupture.com

Brown, Rick. "MONA Curator Spent Five Years to Assemble First-ever Exhibit of Black Neb. Artists." Kearney Hub (Kearney, NE), January 27, 2011.

Hildebrand, Jennifer. "The New Negro Movement in Lincoln, Nebraska." Nebraska History 91, nos. 3 and 4 (Fall/Winter 2010): 166-89.

Patton, Sharon F. "The Search for Identity 1950-1987." In African-American Artists, 1880-1987: Selections from the Evans-Tibbs Collection, edited by Sharon F. Patton, Guy C. McElroy, and Richard J. Powell, 73-111. Washington, DC: Smithsonian Institution Traveling Exhibition Service, in association with University of Washington Press, Seattle, 1989.

Smith, Rudy. "I Am Black." Omaha World-Herald (Omaha, NE), May 23, 1971, 34.

Wanderland Press. www.wandaewing.com

---

Project created by: Salma B. Taran C. and Tierra C.