The Jefferson Square Story
How do we support and contribute to the re-development of Jefferson Square without burying its history, and also honoring the ethnic diversity that was once part of it?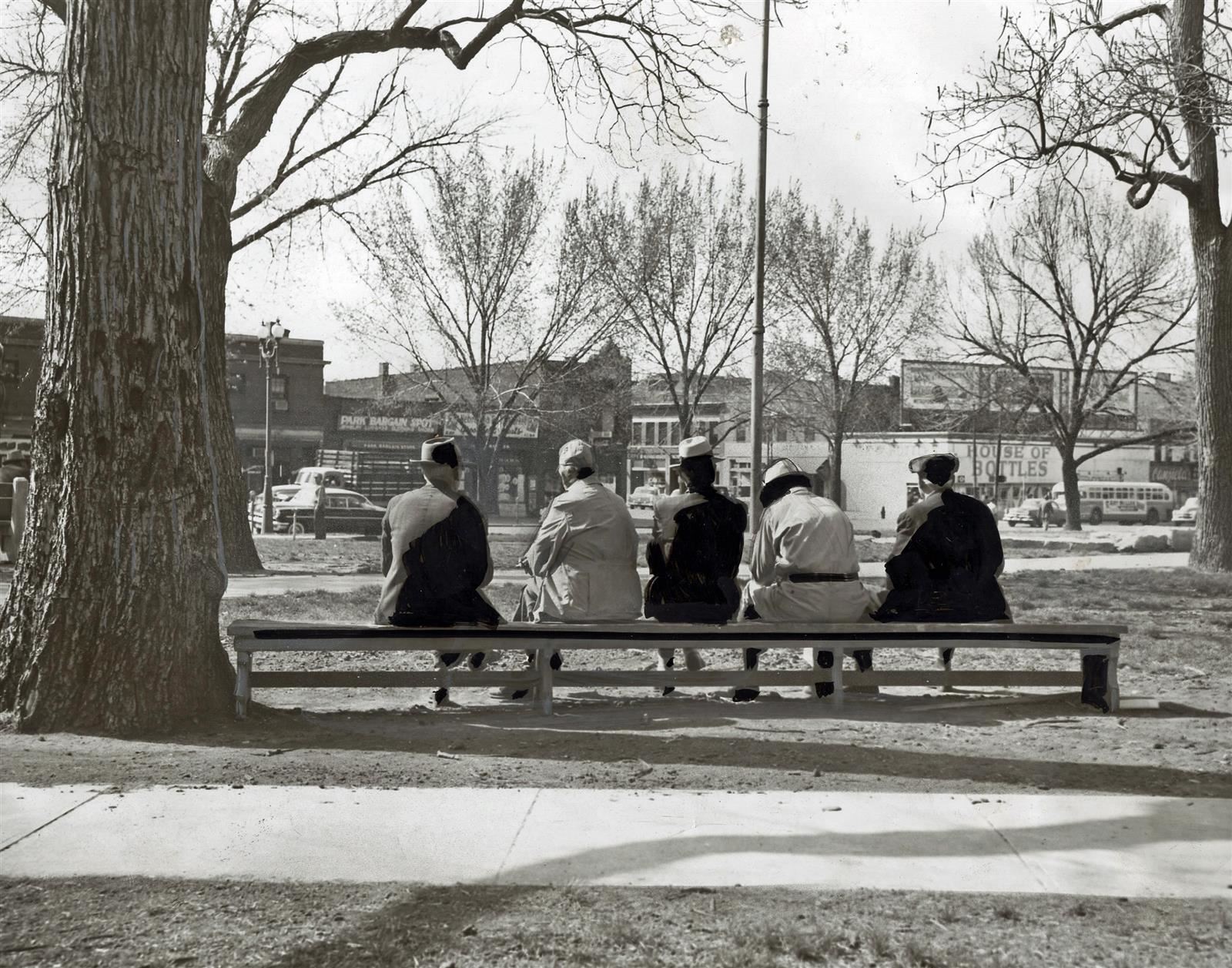 The Jefferson Square Neighborhood is bounded by I-480 on the south side, Burt Street on the north, 15th Street on the east, and Highway 75 on the west. Jefferson Square was founded in the 1860s, not long after the founding of Omaha itself in 1854. This neighborhood's peak years were around the 1930s and early '40s. It was a popular neighborhood for immigrants because it was downtown and urban, and it was surrounded by a large industry. There were coal-burning smokestacks and many of Union Pacific's shops, so it had a large working community. Overall, it was a poor, but very lively neighborhood.

The neighborhood's decline began in the 1960s, when I-480 was built through it. The rise of car culture fueled Omaha's decision to begin construction. It is also likely that a rise in suburbanization contributed to the construction of I-480, which gave affluent white families access to downtown Omaha from their homes. The highway became a barrier for people who already lived in the neighborhood—in fact, it pushed a lot of them out.

By the 1930s, Jefferson Square served Omaha's small Chinese population, which was concentrated along North 16th Street. In 1938, a Chinese-American social organization, the On Leong Tong, relocated its building to the area. By the 1960s, indigenous families, often with a connection to the Omaha tribe, were living in the neighborhood's hotels and boarding houses. Jefferson Square's park was a meeting place for the Indigenous community.

The bulk of what is actually Jefferson Square remains deserted. In 2019, there is a pawn shop and a pastry shop still running from the heyday of Jefferson Square, but most of what still stands is vacant. These vacant buildings give us a glimpse of an otherwise invisible neighborhood.

In 2019, the surrounding area is in a state of rapid change, related to the redevelopment fueled by the construction of TD Ameritrade Park, the home of the College World Series. As growth around the stadium has expanded, the old Jefferson Square Park neighborhood is showing signs of revitalization. The big question is whether that renewal will honor the rich and diverse history of the area and benefit a broad range of Omahans, or just more affluent members of the community.

Black and white images courtesy of the Omaha World-Herald, 1955.

An interview with Edouardo Zendejas who talks about his time living in the Jefferson Square neighborhood in the 1960s, before it was displaced by the construction of Interstate 480.
Jefferson Square Park ("Hobo Park")
Jefferson Square Park was located at 1604 Chicago St. In its very early years, it was a thriving park filled with trees, flowers, benches, and people. The park was created in 1865, at the end of the Civil War. It was one of the first city parks in Omaha. It stretched for only one block. In the 1950s and 1960s, the Indigenous community, living in nearby hotels, gathered in the park. While the construction of I-480 contributed to the decline of the neighborhood and the complete demolition of Jefferson Park, the park itself was suffering long before that. It became known to locals as "Hobo Park", which was due to the large number of homeless people who congregated in the area, drinking and smoking. In the end, it was not your typical park where kids played and families spent time. In 1967, the city voted unanimously to demolish the park in place of Interstate 480. The construction began in March 1969, when bulldozers and dirt piles quickly took the place of the park. What's left of "Hobo Park" in 2019 has been converted into a parking lot. Looking south, there is a view of Downtown Omaha. In 2019, the DoubleTree Hotel stands southeast of where Jefferson Park was. The surrounding area has new apartment buildings and chic restaurants.

This artifact is a newspaper article by the Omaha World-Herald written on March 18, 1969. It discusses the destruction of Jefferson Square Park. During the last years of the park, it was mostly occupied by bums, who we know as homeless people today. This artifact tells us about how homeless people moved out of the park and to other places after the construction of I-480 began. It tells us the beginning, peak, and the downfall of Jefferson Square Park. The park was completely overwhelmed by an influx of homeless individuals, which made it an undesirable location for anyone else living in the area. Jefferson Square Park was described by our interviewee, Mr. Zendejas, as a place not intended for children. This artifact confirms that statement because it tells about the constant violence that occurred at night. This artifact can be used as evidence for the decline of the park and the gradual destruction of it.

Photo Courtesy of the Omaha World-Herald.
Park and Chicago Hotels
Photo Courtesy of The Durham Museum Photo Archive.

The Park Hotel was located on the corner of 15th and Cass streets. It was built in 1912 as a three-story hotel with room for about 32 people. The rooms could cost as low as $1.50 per night. For that reason, this hotel, and many others in the neighborhood, were popular for transient populations. People could come and go as they wanted, and they could stay for a cheap price. The neighborhood itself became a place where a lot of Native Americans moved to during Relocation, a 1956 United States law that encouraged (and forced) Native Americans to leave their Indian reservations and to assimilate into the general population in urban areas. These hotels weren't particularly "nice", which is most likely due to neglectful hotel owners exploiting a poor, ethnic population. Based on a news article written in a November 1968 issue of the Omaha World-Herald, a fire broke out in one of the rooms inside the Park Hotel. This fire was allegedly caused by a cigarette thrown into a 4-foot-pile of trash inside one of the hotel's rooms. In December 1968, the Park Hotel was deemed unfit for human habitation—it was torn down in 1970. One block down from the Park Hotel on 15th and Chicago streets was a 3.5 story building known first as The Chicago Hotel, and then later as the Chicago Apartments. The building was gutted by a fire on Jan. 31, 1960. It was completely torn down shortly after the fire.

In 2019, a parking lot sits in place of the Park Hotel. Next door to this lot is a cross-fit gym and across the street on 16th and Cass streets is a pastry shop. While most of its neighboring buildings have become either vacant or demolished, major development continues north on 15th Street. That area has become home to brand new apartment buildings and upscale hotels. The reason for this development could be closely tied to the College World Series and TD Ameritrade being home to the College World Series. TD Ameritrade is only a half-mile from where both the Park and Chicago Hotels once stood.
On Leong Tong House
This structure, located at 1518 Cass St., is an example of a vacant building that gives us a glimpse of an earlier, more vibrant, Jefferson Park neighborhood. Constructed in 1911, this three-story white building was used as a laundry facility called Truax Laundry. From 1938 to 1959, the building was the home of the On Leong Tong, a social organization for Omaha's early Chinese and Chinese-American community.

Founded in 1912, the On Leong Tong provided Omaha's small Chinese immigrant community with a place to worship, gather for holidays, gamble on games like mahjong and the lottery, and feel connected to each other. Tong is a word meaning "to bring together."There were very few places that welcomed Chinese immigrants at the time, so the community decided to come together in their own place involving their culture and traditions.

As this July 16, 1938 Omaha World-Herald article describes, the On Leong Tong house moved to 1518 Cass St. from 111 N.12th Street, near 12th and Dodge. The article reports that for the formal opening ceremony of the new location, the American and Chinese flags flew from the mast, and the front was decorated in bunting, and there was a big feast in the evening.

The On Leong Tong moved to its new location to be near Omaha's Chinese-American community, who by the 1930s were living nearby on North 16th Street. The Near North 16th Street neighborhood was considered at that time to be Omaha's Chinatown. The On Leong continued to operate until 1959, when it disbanded following the death of the last member. This artifact was once next to many historic buildings on 15th and Cass streets. This building is significant because it represents the neighborhood's connection to Omaha's old Chinatown.

Photo Courtesy of Durham Photo Archive

A lot of people (those of different ethnicities in particular) who were not welcomed in other parts of Omaha, were welcomed into the Jefferson Square area. For this reason, it was a diverse, albeit poor, neighborhood. It is unknown exactly why the area turned into what it currently is, but we can speculate that the construction of I-480 was a major influence. However, the On Leong house disbanded years before construction began, so what did happen to the Chinese community in Omaha? Some sources say that as children of Chinese immigrants became assimilated, they felt less connected to their immigrant background, and more connected to their Omaha, Nebraskan one and began to move to other areas of the city.

The artifact is a postcard from the 1920s showing The Truax Laundry business located at 1518 Cass St. The building was built as the Truax Laundry building in 1911 by Norman E. Traux, across the street from the former Jefferson Square Park. Traux Laundry was a commercial laundry. It featured an enameled, white brick façade and vertical rectangular panels. The brick building featured tin ceilings and wood floors. By 1938, the laundry had closed and was replaced by the On Leong Tong.

2019 MIHV Project
Student Reflections
Making Invisible Histories Visible "made me realize that things like this are important for our future but also other places too. This program made me change a lot personally and mostly socially…After being in this program, it changed a lot of my thoughts on Omaha. I became more interested".

- Shylah B.


"My understanding of Omaha has changed because I have learned more about it. I've changed by getting to know my community a little bit more and by thinking about what I could do to help my community grow and improve."

- Eli G.


"Because of this program, I have become more willing to open up my eyes to the building's history [and] history in general. The best part of [MIHV] was going to see everyone's neighborhood…to better my understanding about them."

- Chris P.


"Making Invisible History Visible allowed me to get a better understanding of the Omaha area and its past. Mr. Zendejas, our interviewee provided a multitude of information that opened my eyes about the area in which we were studying, Jefferson Park. One thing it helped me improve was becoming a bit more social because when working in groups, it is a necessity to communicate and work together."

- Carlos P.

Youth-Driven Visions for the Future
Carlo (Jefferson Park)

Carlo's idea involved utilizing the space, which is currently a parking lot, as a food truck lot. He came up with this idea because it was a creative way to bring people into the neighborhood.


Christian & Elijah (Park Hotel)

These two talked about ways to help the current population of people who live in the Jefferson Square neighborhood. For them, a gas station would fulfill a dire need. The closest gas station is small, with only two pumps, and so Christian & Elijah thought to build a combination of a general store and gas station, which they would call "Snacks & Gas." They talked about including up to ten pumps, and easy ways for vehicles to enter and exit, so there is no congestion at the pumps.


Shylah (1518 Cass St.)

Similar to Christian and Elijah, Shylah wanted to bring a service to the people who currently live in the Jefferson Square neighborhood. As we walked around and even drove beyond the neighborhood, we immediately noticed a lack of grocery stores. For this reason, Shylah wants to utilize the currently vacant building to open a grocery store. Her grocery store would put an emphasis on local produce and goods. Shylah thinks a grocery store is a great way to revitalize the neighborhood in a way that caters not only to one-time visitors but to Omaha's community as well.

---

Research combined by Shylah B., Eli G., Chris P., and Carlo S. Students who worked on the project will attend high school at North, Northwest, and Burke High Schools.