Return to Headlines
Four New Schools Near Completion for Students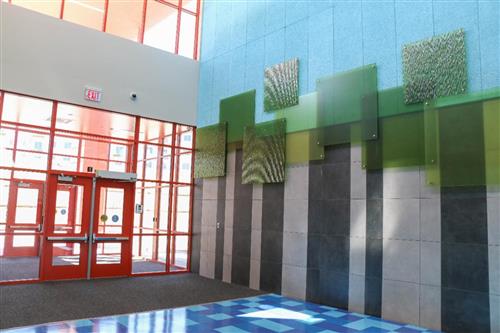 Four years after voters approved the Phase 2 Bond Program, Omaha Public Schools is getting ready to celebrate. This is an exciting time for students, staff and families. Many parts of the bond program are close to completion, with other puzzle pieces moving into place.
The 2022-23 school year brings a parade of new schools and renovations at existing buildings. New schools include:
Buena Vista High
Westview High
Forest Station Elementary
Pine Elementary
"They are beautiful and unique buildings that are built for collaboration and teaching our students to be engaged and responsible for their learning," explained Thomas Lee, Westview High principal.
A fifth new school, Bluestem Middle, is scheduled to open in August 2023.
At the same time, crews are updating mechanical, electrical and plumbing systems at more than a dozen existing schools.
Omaha Public Schools Construction Supervisor Brad Boganowski compares these systems to the human body. He says taking care of a building's health is just as important as taking care of the health of the people who use it.
"We are taking care of the heart, kidneys and lungs of the school. The health of the building translates to the health and comfort of the folks inside," Boganowski said.
The Phase 2 Bond Program includes 25 projects that add up to a $409.9 million investment. The plan remains on schedule and within budget.
"I am still in awe that the whole bond program is on time and on budget," said Lacey Merica. Merica is a former Board of Education member and now sits on the Citizens' Bond Oversight Committee, part of Omaha Public Schools' community engagement through construction.
"Despite a multi-year pandemic, global supply chain issues and extreme weather events, we have been able to build world-class educational facilities that reflect the 21st Century learning environment," Merica added.
Omaha Public Schools has taken many steps to plan for the five new schools.
Our district communicated regularly with families to share updates as staff developed and finalized plans. That work included letters and direct phone calls to families and community engagement sessions.
"I remember talking about whether the community would entrust the new board with seeing this massive project through to fruition," Merica remarked. "I am so thankful our Omaha community did. We're now seeing the payoff with first-class learning environments for all of our students."
The 2018 bond work is scheduled for completion in fall 2023. A timeline with project updates and details is available on our website.
"The bond program is benefitting our community in so many ways," said Merica. "We were able to address safety, make mechanical upgrades, ease overcrowding, lessen our reliance on portable classrooms and so much more."