Return to Headlines
Students Gain Real-World Experience as Interpreters
After a successful summer rollout of paid internships for high school students assisting with Next Level Learning, Omaha Public Schools has brought the same approach to boosting our multilingual resources by hiring our first student interpreters.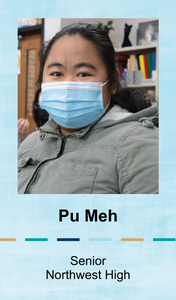 This fall, our district hired 20 students who speak eight different languages to supplement the work done by our bilingual liaisons. This has allowed our district to assist more families and engage with their students' education.
"It has really helped to tap into the expertise of our students, to be that conduit of communication and that friendly face a family may recognize," Lisa Utterback, chief Student and Community Services officer, said.
Hser Kmwe, Karen Soto and Pu Meh are among this first group of students serving others through this opportunity. Hser Kmwe is a native Karen speaker, Pu Meh speaks Karenni and Soto grew up speaking Spanish.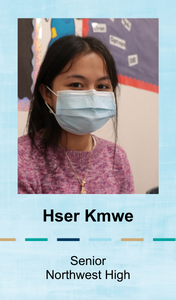 All three students worked as unofficial interpreters for their communities before earning the professional opportunity.
"We have a small community of Karenni people and they will call me to interpret," Pu Meh said. "They will call us for their home matters, they will also tell me just not only about school but the community – everything around us."
Students were trained in September, and completed many of the same steps expected of newly hired staff in our district. They are paid hourly for their work. Because of their past experiences in school, they understand the importance of the job they accepted.
"When I was in elementary school, I had someone interpret for my parents. I always kind of looked up to her at that time," Hser Kmwe said. "I was like, 'Oh, I'm going do this when I get older' to help the rest of the kids or the families that don't understand English."
So far, the student interpreters have assisted with elementary and middle school conferences. In turn, this has helped them improve their own language and problem-solving skills.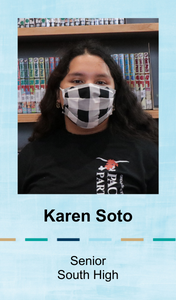 "Some of the words I never heard before so I had trouble interpreting it," Soto said. "I had to use other words in Spanish to really get the point across so the families could understand it."
The experience has helped some of the students figure out their future career paths. Both Hser Kmwe and Soto are interested in careers in the medical field, but want to continue using their multi-lingual abilities as they complete their education and move into the workforce. After college, Pu Meh sees herself pursuing a job with Omaha Public Schools.
"Ever since I was young, I wanted to be a teacher, so I will probably go back and work for OPS too but as maybe a translator and teacher at the same time," she said. "I want to do elementary education because I love kids and education is the world for me. I want to give others the education that they need, too."
The program has helped so many families that our district plans to continue offering similar opportunities to students moving forward.
"We are going to continue to tap into the talent that we have within the district and provide ongoing opportunities," Utterback said. "Our young people that have a skill that we need are being trained and paid according to the skill that they're providing. They're getting experience and the service that our teachers and families are getting I believe is second to none."