Return to Headlines
Students Return Ready to Tackle Advanced Academics in Omaha Public Schools
More than 100 students will begin the school year better prepared to make the most of advanced classes offered in Omaha Public Schools.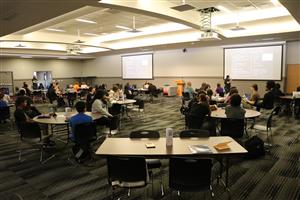 "I just want to be as prepared as I can be, to keep my stress levels a lot lower than they were last year," said student Norah Purcell.
In July, Purcell and others from all nine high schools joined the Omaha Public Schools Advanced Placement Summer Symposium. The camp focused on building confidence and skills for success in more challenging high school classes.
Advanced Placement, or AP classes, cover college-level topics. With a test at the end of each year, students can earn college credits at no cost before high school graduation.
"This week is to prepare students to be successful in AP. Most of these students have not yet taken an AP class, or only a few. We know that there may be a gap. Some students choose to drop a new AP class because they feel overwhelmed. This is a chance to meet with students and build skills," explained Gifted and Talented Education leader Beth Maloney, Ed.D.
Sessions focused on time management during the school year, taking high quality notes and reading at a deeper level.
"I took notes, I was good, but I'm also a procrastinator. I wanted to go to the symposium to prepare myself," said Jillian Bertino. "It gives students a clear idea of what AP is going to be."
Students new to AP classes heard from panels of classmates who completed AP courses, teachers who lead AP classes and graduates who earned college credit in high school. Brielle Wilson learned from her peers, "Hearing experienced AP students talk about how it can become very difficult, very quickly if you're not doing the work, taking notes, asking questions and advocating for yourself."
Omaha Public Schools offers more AP courses than any other school district in Nebraska. Existing pathways like International Baccalaureate and future ones like Cambridge offer additional advanced opportunities to young people.
"A big part of our work in Gifted and Talented Education is to draw in more students," Maloney added. "We want all our kids to have this opportunity. We don't want AP to be only for some students. Our goal is to let all these students know; they can do it. We want them to go back to their schools and say, you can do this, too."
The experience brings pride in her school and school district to Madison Neeley. "It shows how supportive the teachers are of kids, wanting to help them learn and advance."
Learn more about Gifted and Talented Education in Omaha Public Schools.
Follow Omaha Public Schools Gifted and Talented Education on Twitter.