Return to Headlines
Afghan Family Finds Comfort in Connection to Home at Omaha Public Schools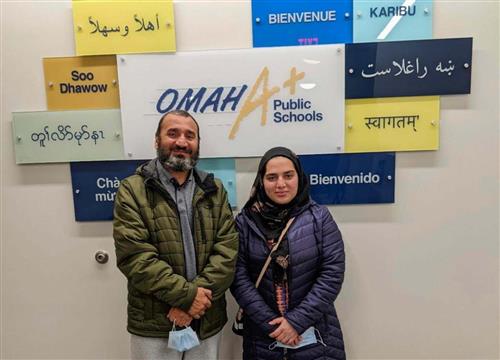 Thousands of miles from the place they once called home, a sign of hope as a new journey begins.

Standing together at the Omaha Public Schools Welcome Center, Maryam Hasan and her father captured the moment in a photograph. On the wall behind them, a sign welcomed them in their native language, Pashto.

The Hasans, who recently resettled in Nebraska from Afghanistan, had just started the enrollment process at Omaha Public Schools when they asked someone to take their picture. They were grateful to find this small reminder of home when they arrived.

"We saw the signs in our language," recalled Hasan. "It made us feel happy and excited."

The welcome sign represents Omaha Public Schools' commitment to supporting all students and families. For those new to the United States, our district provides resources through our Refugee and Migrant Education programs.

"If we try to think about what it would be like to be totally displaced from your home and come to a new country where you don't know the language and you're not familiar with anything around you, making a connection right away is everything," said Jaimie Cogua, coordinator of English Learning, Dual Language, Refugee and Migrant Education for Omaha Public Schools.
Hasan and her family arrived in Omaha last November after a months-long journey from Afghanistan to the United States.
"We spent a lot of time waiting for food and getting clothing, which sometimes was not the best for our needs," Hasan shared about her experience. "Finally, we came to Omaha, where our cousins, uncles and aunts live."

The rich diversity of our students and families is a point of pride for Omaha Public Schools. Our district works with community partners like Lutheran Family Services and the Refugee Empowerment Center to ease the transition for new Nebraskans.

"That partnership allows us to anticipate in advance when those families will be coming to enroll so that we can assure that we have the appropriate language assistance available," said Cogua.

That advanced planning includes support for students when they arrive at school.

"I felt good because I can go to school and I was ready to begin," said Hasan. "All my teachers have helped me in all of my classes."
Omaha Public Schools staff also work to establish a connection with refugee families outside of school.
"Schools are often the first connection families make with their new community," said Naomi Fox, English Learner (EL) teacher at Burke High School. "We can be the connection for so many opportunities in Omaha, so these services are very important."
Our district offers a parent involvement program and adult English as a Second Language (ESL) classes. An enrichment class is in the works to incorporate innovative ways to connect.

"This helps to ensure that our newest families have support to feel connected and become engaged in their child's education," Cogua said. "Omaha Public Schools becomes a necessary resource and lifeline for our families and truly a partner in helping them become a part of our community."

For Hasan, receiving a warm welcome made a difference as she adapts to a new school and community. When asked her favorite thing about school, she said "all of it has been my favorite so far!"