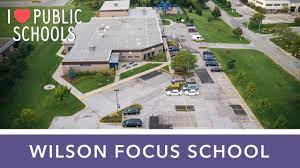 WILSON FOCUS SCHOOL HISTORY

Wilson Focus School opened in 2008-2009 as Underwood Hills Focus School. The school was a joint collaboration between three school districts and was created as a model for the Professional Learning Community legislation in Nebraska. Omaha Public Schools, Elkhorn Public Schools, and Westside Community Schools joined together to conceptualize this model under an interlocal agreement sharing staff, budget and resources.

The focus school was established similar to a magnet school, but open to students beyond the OPS district boundaries. The school was and continues to be open to all students in the surrounding 11 districts within the learning community. Students are chosen through a lottery system and students beyond the boundaries provide their own transportation.

Extra value standards were written to emphasize the theme of Leadership through Technology and Communication. The focus school also planned for an extended calendar and an extended day offering after-school enrichment activities.

In 2011-12, Underwood Hills and the partnership with the other districts transferred to the maintenance of Omaha Public Schools. The school opened as Wilson Focus School to honor the previous namesake of the building, Alice Wilson.

The school's history continues today, serving a diverse socio-economic population of 240 students from across the city that join together under one roof as proud Lions!