Return to Headlines
School Nurse Supports Students' Academic Performance
Kim Christensen, Registered Nurse, school nurse at Beveridge Middle, believes it takes a village to support students and their academic success. She does her part by keeping students safe and healthy to ensure quality time can be spent on their studies.

"Wellness and education go together. Kids have to be healthy to be here," said Christensen. "There is a big community invested in these kids. This is a tough age, and it's important we support them."

Christensen approaches the health of students and staff with a sense of calmness and reassurance. She is diligent about staying positive and keeping everyone informed about health and safety measures. Christensen motivates staff to stay active through monthly wellness challenges and encourages students to practice good health choices.

"Kim is a caring and kind nurse," said Lori Bouda, Director of Health Services. "She has the ability to form positive relationships with students, staff, families and community partners."

Christensen and her health aide, Tara Bianco, assist students with medication management, injuries, illnesses and daily needs. On average, Christensen serves 40 students per day, attending to minor injuries, medication management and supporting students through injury and illness.
Beveridge Middle provides students with daily living needs, such as personal hygiene items and clothing. She collaborated with Beveridge's social worker, counselor and a community counselor from Methodist Health Systems to provide these resources to students free of charge.

"Students can help themselves to these items anytime," says Christensen. "They know it's a safe space, free of any judgments."

Building relationships with the students outside of the school setting or nurse's office is a priority to Christensen. She attends plays, is a line judge at volleyball games and is a timekeeper at track meets. She remembers a particular football player who was concerned no one would attend his games. She cleared her schedule and made a point to attend each of his games to show her support.

"She has built a great rapport with students, staff and families by going above and beyond for them," said Tiffany Molina, principal, Beveridge Middle. "She follows up with parents to ensure students are well and safe."

Christensen is an Omaha Public Schools alumni, graduating from Northwest High. She attributes her ability to attend nursing school to being a Peter Kiewit scholar. "I had tremendous support from my teachers and counselor at Northwest," said Christensen. "Receiving the scholarship was a huge deal and I'm so thankful my counselor encouraged me to apply."

She began her career as a pediatric nurse at Children's Hospital before her family moved to Sergeant Bluff, IA where she was a school nurse while her children attended school. Christensen always wanted to be a teacher or nurse. "Being a school nurse is the best of both worlds," said Christensen.

She was glad to return to Omaha Public Schools and invest in students' safety, health and academic success as her teachers did for her. She reflected, "If I can help just one kid, it makes a big difference."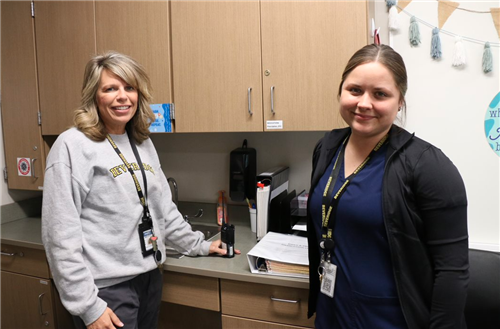 Kim Christensen, Registered Nurse (left), Tara Bianco, nurse aide (right)