Return to Headlines
Omaha Public Schools Invests in Staff Morale Task Force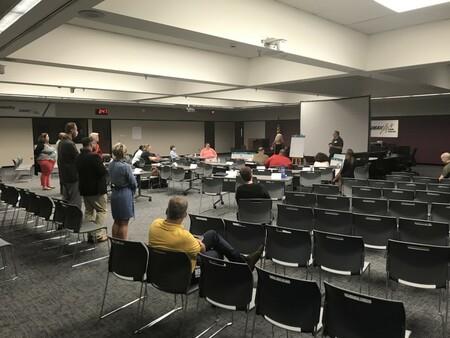 As we move forward together in a new phase of living with Covid-19, Omaha Public Schools is taking direct steps to address staff morale.
This summer, Superintendent Cheryl Logan, Ed.D., and Chief Talent and Operations Officer Charles Wakefield assembled a diverse group from across our district for a Staff Morale Task Force. The group discussed current realities and brainstormed ways to address the needs of staff.
"Our district and Dr. Logan recognized that morale is not where we wanted it to be," Wakefield said. "Every single person in the district makes a difference and makes an impact, and we need them to make that impact. It's about giving staff a voice."
Saddlebrook Elementary second grade teacher Elizabeth Padomek joined the task force after sharing some of her concerns and potential solutions with district leadership.
"If something's broken and you're not saying anything about it, then there's no way it's going to get fixed," Padomek said. "Staff feel that they have too much work and too little time. As a classroom teacher, that definitely resonates with me."
Our district worked with Scott Butler, Ed.D., director of training at Project Harmony, as an outside facilitator to help keep the group focused on the big picture and ensure that complex topics were addressed. Butler worked in education for 33 years, so he was able to approach the task force with that experience in mind.
"As an educator, I liked seeing that the district is concerned about the day-to-day experience of all of its employees," Dr. Butler said. "I was impressed by all the participants' willingness to look at the common good. Some really tough conversations happened, and people were willing to engage in the feeling of being uncomfortable in order to find a way forward."
"It's a lot of open dialogue and a lot of sincere dialogue," Omaha Education Association President Michelle Settlemeyer said. "It's very honest, it's very raw, it's very true. I think the intent behind the task force is altruistic. We're looking to see how we can bring all of these different pieces together and create one cohesive unit."
The task force matched similar concerns together and worked their way through each grouping. They were encouraged to discuss ideas that were out of the box, Padomek said. Although some ideas may be easier to implement than others, a wide variety of options were on the table. The team then ranked their priorities and provided recommendations for district leadership to review.
"I'm appreciative that we're doing this, but I want to see action from it," Padomek said. "I really want to see some of these things implemented."
Wakefield says our district plans to kick off the first initiatives this fall. The task force will continue to meet to check in on progress and work on new initiatives.
"We care about employees being able to make a difference, and this is really about empowering our employees to make a difference," he said. "It's about finding positive solutions to move our mission forward and our mission is about our students. This is about helping us make a better, more substantial impact with our students."