Return to Headlines
School Counselors Help Students Achieve Success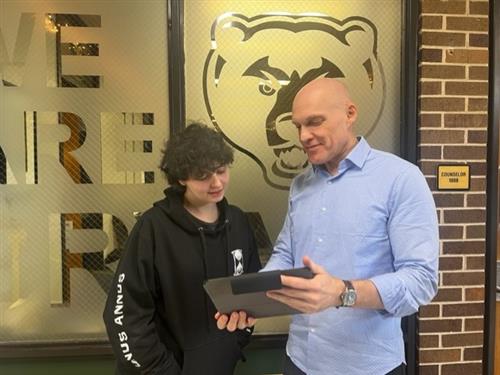 If you ask a group of students what their school counselor does, the answer might be different for each.
At our elementary schools, you'll find school counselors guiding students on things like kindness, gratitude and respect. They're also helping students with academic support and problem-solving, developing the skills outlined in our Portrait of a Graduate.
"Counselors use age-appropriate activities to develop students' skills," said Jenn Bernard Walker, Omaha Public Schools school counseling lead. "These activities and services help students develop the mindsets and behaviors for success and improve their achievement, attendance and discipline."
High school students, like Bryan High senior Daniela Garcia-Mejia, work with school counselors to develop goals for success in college, career and life. Garcia-Mejia wants to be a nurse. She says her guidance counselor helped her get there.
"She took me on several college visits, and it inspired me, even more, to go into nursing," said Garcia-Mejia. "She also helped me enroll at the Career Center to obtain my CNA license before graduation."
Bryan High senior Uriel Vargas worked with his counselor to plan for college.
"My counselor gave me recommendations on what colleges to apply for based on my degree of interest," said Vargas. "She also talked to me and my dad about scholarship opportunities to help me attend the university of my choice."
With his counselor's help, Vargas is on track to attend the University of Nebraska Omaha and study psychology next year.
At Omaha Public Schools, approximately 170 counselors support the more than 52,000 students we serve.
"One of the most exciting parts of my job is assisting students with postsecondary planning," said Bryan High counselor Mark Nissen. "It really is invigorating to accompany students as they transition from high school to college, military or the workforce."
Our district celebrated the unique contributions of our school counselors during National School Counseling Week, which takes place the first full week in February.