Return to Headlines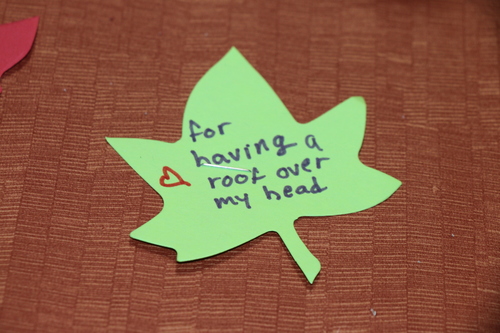 When you walk through the doors of Gilder Elementary, you're greeted with warm smiles, a thoughtful display and a sense of gratitude.

"Gratitude means gratefulness," said Lara Elshalaby, a Gilder Elementary fourth grader. "I'm grateful for my brothers and my friends."

School Counselor Caitlin Glenn set out to make gratitude a fun and essential part of learning at Gilder Elementary this year. Starting in October, Glenn and her students wrote what they were grateful for on colorful paper leaves and pinned them on a tree cut-out display where the whole school could see.

"It's called a gratitude tree," said Glenn. "I think the roots of what drives us and motivates us to keep going throughout our life comes from gratitude."
Students who participated in growing the tree's leaves shared many notes of thanks. Some wrote about their families, pets and toys. Others expressed gratitude for their school community.

"[I'm grateful for] my teacher," said Gladys Mevor, Gilder Elementary third grader.

Glenn says it's important for kids to learn about gratitude early and recognize that it may look different for everyone.
Because November is traditionally a month to celebrate gratitude and give thanks, the tree will be displayed all month.

Students are also learning about gratitude at Omaha Virtual School (OVS). Each year before Thanksgiving, Michael Emmer, an OVS school counselor, gives his students a writing assignment. Students write a short letter of appreciation to someone. Then, they give the letter to that person to let them know they made a difference in their life.

"Gratitude has to do with being able to look at the good things happening in our lives," says Emmer. "And looking at the positive people there to help us move forward and encourage us to be the best people we can be."
Emmer and Glenn teach students about the benefits of expressing gratitude in different ways. Both believe it helps students make friends, feel safe and ultimately be successful in school. It also builds a positive team culture.
"My co-workers are full of life, very nurturing, and they carry a positive attitude that's contagious," said Glenn.