Return to Headlines
Omaha Public Schools Superintendent Cheryl Logan, Ed.D., Wins McGraw Prize in Education
Tuesday, the McGraw Family Foundation and the University of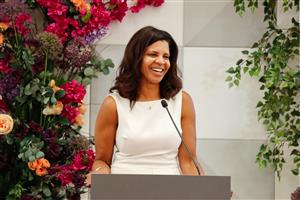 Pennsylvania Graduate School of Education (Penn GSE) named Superintendent Cheryl Logan, Ed.D., a recipient of the 2022 Harold W. McGraw, Jr. Prize in Education. Dr. Logan is the sole honoree nationally this year in Pre-K-12 education.
"The McGraw Prize was established in 1988 to honor my father's commitment to literacy and education and to shine a spotlight on innovative and dedicated educators who empower our students and enhance our society," said Harold McGraw III, former Chairman, CEO and President of The McGraw-Hill Companies. "I salute this year's winners who meet the highest standards of excellence and who have changed the lives of so many by their leadership and passion."
In announcing the 2022 winners, organizers noted, "Dr. Cheryl Logan, superintendent of Omaha Public Schools since 2018, has spent her career building engagement and alignment among all the key stakeholders in student success. Her innovative leadership during the COVID-19 pandemic and commitment to providing opportunities for students to achieve their highest potential embody the essence of the McGraw Prize. Logan led the district through a groundbreaking SARS-CoV-2 testing pilot study with the University of Nebraska Medical Center, enabling Omaha to be one of the first large, urban school districts in the nation to return to in-person learning in 2020." Prior to her work in Omaha, Dr. Logan's efforts in the School District of Philadelphia founded the first and only early college program in the Commonwealth of Pennsylvania.
In a letter to Omaha Public Schools and families announcing the award, Board of Education President Shavonna Holman, Ed.D. said, "From the excitement of a new Strategic Plan of Action to the challenges of leading through a pandemic, Omaha Public Schools is stronger because of Dr. Logan's student-centered service and leadership. We are proud to share our heartfelt congratulations."
"These inspiring education leaders have changed the lives of so many individuals through their work. Each represents the best in our field and what it means to be an educator. Their impact is profound, and we are so proud to honor their outstanding contributions," said Pam Grossman, dean of Penn GSE and a leading expert on teacher quality.