Return to Headlines
Librarian Sets the Stage for Student Reading Engagement
Libraries have become more than just a quiet place to check out a book or two. Ponca Elementary Librarian, Karen Stone, is an example of filling the library with joy while finding the right book to enjoy.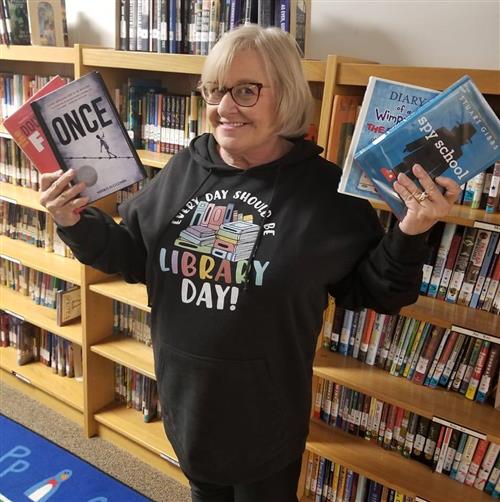 "My best advice for any librarian is, get to know your students. It makes all the difference in the world when you build your library," Stone said. "The better you know your students, the better the selection of books you can offer that they are going to read."
She enjoys the challenge of finding books students enjoy reading. She remembers a student who was resistant to reading. She suggested a few books to them, with no success. They would check out books but she could tell they weren't engaged or excited about reading.
Then she suggested the 'Among the Hidden' series. The student returned the next week and renewed the book. "As the class left the library, the student hung back and mumbled to me, books aren't so bad I guess." Stone exclaimed, "Yes, I got them [excited]!" Going forward, the student would ask her to pick out books for them.
"Mrs. Stone is a dynamic teacher who doesn't simply engage students in literature, but rather dives in alongside them as they adventure through books," said Abbie Vlcek, principal. "She makes it her personal mission to unite students with the 'right' books so they learn that they do love to read.
Stone puts the same effort into building relationships with her peers. She spends a day every two weeks in each classroom co-teaching a lesson with a teacher. Co-teaching builds a rapport between teachers and the library. Stone has noticed teachers feel more comfortable asking for books they need for lessons.
Stone also teaches technology to each grade level, kindergarten through sixth grade, weekly. Stone takes pride in teaching students the important fundamentals of technology. As a former classroom teacher herself, Stone knows teachers don't always have the time to cover these important fundamentals.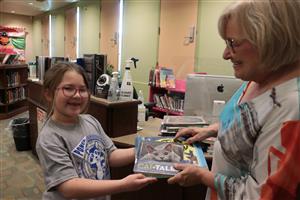 A native of Chicago, Stone's first career was as an actress. She worked in dinner theater and was a part of other small productions. She moved to Omaha to help care for her grandmother and quickly realized there weren't many acting jobs in the area. Stone obtained a bachelor's and master's degree in education from the University of Nebraska Omaha.
Stone has worked at Omaha Public Schools for 25 years and said she can't imagine working for any other district.
"Omaha Public Schools is a good district. The administration cares a lot about their staff. I can't imagine working for another district. The diversity of OPS is what I love the most," Stone said. "You get so much from the students. It's not just you imparting yourself to them, it's you learning from them."